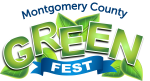 The 3rd annual Montgomery County GreenFest will feature music, films, speakers, exhibitors and workshops all focused on building community and improving our environment. Saturday, May 6th from 11am – 4pm at Bohrer Park at Summit Hall Farm, 506 South Frederick Avenue, Gaithersburg, MD.
GreenFest has activities for all ages:
Relax to the sound of local musicians
Check out the arts and crafts, the book reading and the electric vehicle show
Explore the more than 100 exhibitors and vendors
Check out our new kids pavilion
Attend a variety of workshops and panel discussions
Grab a bite to eat at a food truck
And much more!
This event is FREE.
For the latest info and updates on the schedule, visit montgomerycountygreenfest.org. Add GreenFest to your calendar: bit.ly/GreenFest2017
Montgomery County will provide sign language interpreters and other auxiliary aids or services upon request — with as much advance notice as possible, preferably at least three (3) business days before GreenFest. Contact Jessica Jones at 240-777-7753 (voice) or send a request to askdep@montgomerycountymd.gov. Taking these steps will help us have sufficient time to best meet your needs.
The Montgomery County GreenFest is brought to you by the Montgomery County Government, Montgomery Parks, the City of Gaithersburg, WSSC, GreenWheaton, Poolesville Green, Silver Spring Green, Bethesda Green, the City of Takoma Park, the City of Rockville, the University of Maryland Extension, and MCPS Outdoor Environmental Education.