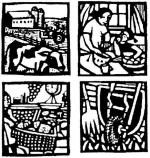 NESAWG's It Takes a Region Conference draws together practitioners and professionals across the Northeast working to transform the region's food system. Preconference on Thursday, November 9th and Conference on Friday, November 10th and Saturday, November 11th at the Lord Baltimore Hotel, 20 West Baltimore Street, Baltimore, MD.
Each year, NESAWG looks at the trajectory of the food and farm movement and the role our network can play in shaping its future. The conference offers in-depth working sessions that tackle important questions about our regional food system and how to strengthen it, drawing from the collective expertise and wisdom of conference attendees. All farmers, policy advocates, farm service providers, food justice activists, food hub managers, government agencies, students, researchers, nutritionists, regional planners, entrepreneurs and NGO leaders are welcome.
Click here for additional information.