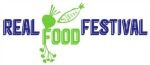 Real Food for Kids – Montgomery (RFKM) is hosting a chef-led contest to develop a new school lunch entree at the Real Food Festival. Saturday, October 28th from 9:30 am – 1:30 pm at Concord St. Andrews United Methodist Church, 5910 Goldsboro Rd., Bethesda, MD.
The festival will feature a variety of workshops in two slots (9:30-10:30 a.m. and 10:45-11:45 a.m.) for kids and parents on cooking, nutrition, mindfulness, yoga and other wellness topics. The main room will feature tables from local wellness organizations and restaurants with samples of their food. In addition, local chefs will team up with groups of students (ages 10 and up) to provide cooking lessons on preparing a new school lunch entrée of their creation during the first workshop slot. At noon, the teams will present their entrées and offer samples to all participants and students will then vote on their favorite chef/student entrée and select a winner from the teams.
All funds will go towards supporting Real Food for Kids – Montgomery's work of bringing real, whole, local, sustainable and nutrient-rich foods to children in MCPS.
Click here to purchase tickets.