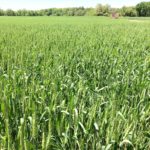 Spend a delightful evening on the farm at the Montgomery County Farm Bureau's 2017 Farm to Table Experience. Saturday, September 23rd from 4 – 9:30 pm at Laytonsville Turf Farm, 5225 Damascus Road, Gaithersburg, MD.
Come share in the county's bounty at this unique Farm To Table experience!
Doug Kellner, Executive Chef of GrillMarX Steakhouse & Raw Bar with two locations in Montgomery County, will be using meats and produce from county farmers to create a memorable meal at Laytonsville Turf Farm, a spectacular turf farm in Gaithersburg.
Guests will have the opportunity to meet with some of Montgomery County's farmers, enjoy a farm tour and visit agricultural related information booths. Attendees must be age 21 or over.
Ticket sales are limited, so purchase your tickets soon by clicking here.