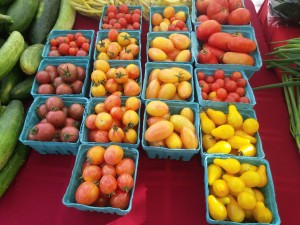 The Olney Farmers Market is a bustling hub of activity on Sunday mornings. Red and white checkered blankets are spread on the ground in front of a live music act conveniently situated near food tents selling everything from organic smoothies to falafel. Vendors promoting their jewelry, clothing, and crafts are peppered amidst pickle-sellers, a knife-sharpening duo, and dozens of farm stands selling summer staples such as tomatoes, zucchini, beets, and carrots, in addition to bitter melon, eastern shore cantaloupe, tiny eggplant, and garlic still brown from the ground it grew in.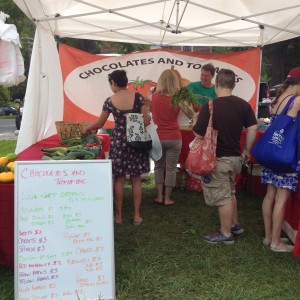 There are several Montgomery County vendors represented at the farmers market. Mark Mills of Chocolates and Tomatoes Farmchats happily with his customers as they ask him about his handcrafted chocolates, unable to decide between the more exotic, Spicy Pepper Dark Chocolate Ganache, Nutella, and Amaruja Cordial, or the more classic chocolates: Peppermint, Coffee, and Dark. To his right are dozens of vibrantly colored vegetables: carrots, beets, kale, spring onions, zucchini, garlic, cucumbers, and from his namesake, yellow, red, purple, and orange tomatoes.
The family-run BannerBee Company LLC sells homemade, biodegradable, all-natural hive-based products, including artisanal honey, bee pollen, pure beeswax candles, and lip balm from hives located throughout Montgomery, Frederick, and Howard Counties.
Next to BannerBee Company sits Two Peas Farm's tent, their produce proudly laid out under their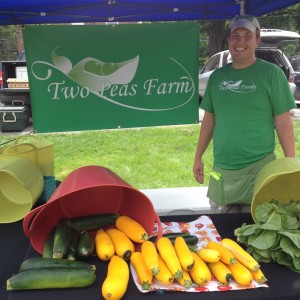 pea-green banner, displaying leafy greens, squash, sungold tomatoes, and cucumbers, and the smiling face of Keith Krause, one of the two farmers at Two Peas Farm. This small farm inGermantown started as a strictly CSA operation, but has begun selling at Olney Farmers Market as well. They also sell produce to local restaurants, an operation they hope to expand as they continue to build relationships with restaurants in the area looking to use local produce. Their farm sells basil, zucchini, tomatoes, and other herbs to Agrodolce Restaurant, also located in Germantown, MD. Agrodolce used the recent delivery of zucchini in their pizzas, sandwiches, pastas, risottos and soups. The basil was used as a pesto sauce, which is prominently featured throughout their menu in pizzas, grilled vegetable sandwiches, several pasta dishes, and various specials, according to the restaurant's owner Phil Burleson.
In the center of the farmers market sits a red tent with a "Manna Food Center" banner proudly hanging from it. Market-goers are encouraged to donate food – fresh produce purchased at the market – and/or funds through a monetary donation to Manna Food's "Fresh Give" Program. The donated funds are used to supplement the small stipend given to farmers willing to donate unsold produce at the end of the market to Manna Food.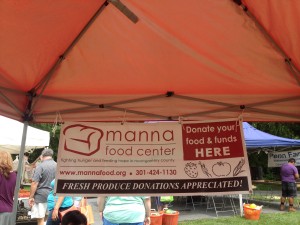 "What usually happens," explains Jenna Umbriac, Director of Nutrition at Manna Food, "is farmers get about $40 a week [from Manna] – maybe more with donations – as an incentive and a 'thank you' for providing a large portion of the unsold produce to our truck. By buying a little bit [of their produce], we show our support of local farmers, and they are extremely generous in return and support us tenfold." Manna strives to support the purchase of produce from local farms and to provide farms a supportive wage in exchange for the produce, and can achieve this goal through the generous donations of market-goers. Manna gets an average of 20,000 pounds of produce each month from the 5 markets that participate in the Fresh Give program. Olney Farmers Market is Manna's biggest participating market, generating an average of 1,500 pounds of produce a weekend. At peak season (July through August) these donations allow the 180 families Manna serves every day to go home with more than 20 pounds of produce, so that half of the amount of food Manna provides them is composed of fresh fruits and vegetables.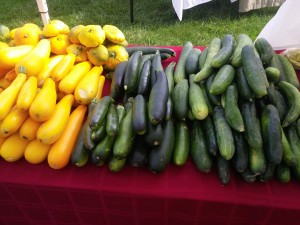 Olney Farmers Market seems to have something for everybody. Families enjoy the live music and children's play area. Home cooks enjoy the cooking demonstrations and events such as the pie-baking contest. Gardeners will appreciate the multitude of native plants, pollinator plants, herbs, and succulents for sale. All local residents can look forward to a multitude of farmers and food producers from which to purchase local, fresh produce and food products, and everyone can appreciate the opportunity to support our local food system.