May is Asian American Pacific Islander (AAPI) Heritage Month, and the Food Council is excited to highlight two MoCo Made AAPI-owned businesses, Sarah's Handmade Ice cream & Treats and Cinnamon Tree Organics. Read on to learn more about the sweet and spicy treats being made by these local AAPI-owned food artisans right here in Montgomery County! 
Sarah's Handmade Ice Cream & Treats makes small batch, all-natural ice cream using local-whenever-possible ingredients for everyone in the family, including pups! All products are made in-house at their Wildwood and River Road shop in Bethesda, and curbside pickup and online ordering are available. They also make delectable custom made ice cream cakes and pies that are available for purchase on their website. 
How did Sarah's Handmade Ice Cream Start?
Sarah's Handmade was created by a Bethesda mother-daughter team, Sarah and Annie Park. When Sarah retired in 2018, she suddenly found herself with time to indulge in her old hobbies. She began to experiment and create original ice cream recipes for her family, friends, and neighbors, fit for each occasion. Soon enough, she was receiving calls and orders from strangers for her handmade ice cream! With strong enthusiasm from friends and wide support from neighbors, Sarah and Annie decided to bring the homemade flavors to a River Road storefront in Bethesda.
Sourcing:
To stay true to Sarah's commitment to the highest quality ice cream that she would "feel proud feeding my family," Sarah uses only the best, local-whenever-possible ingredients and sticks to her small-batch, all-natural recipes.
Products:
Indulge your sweet tooth in their special flavors for May!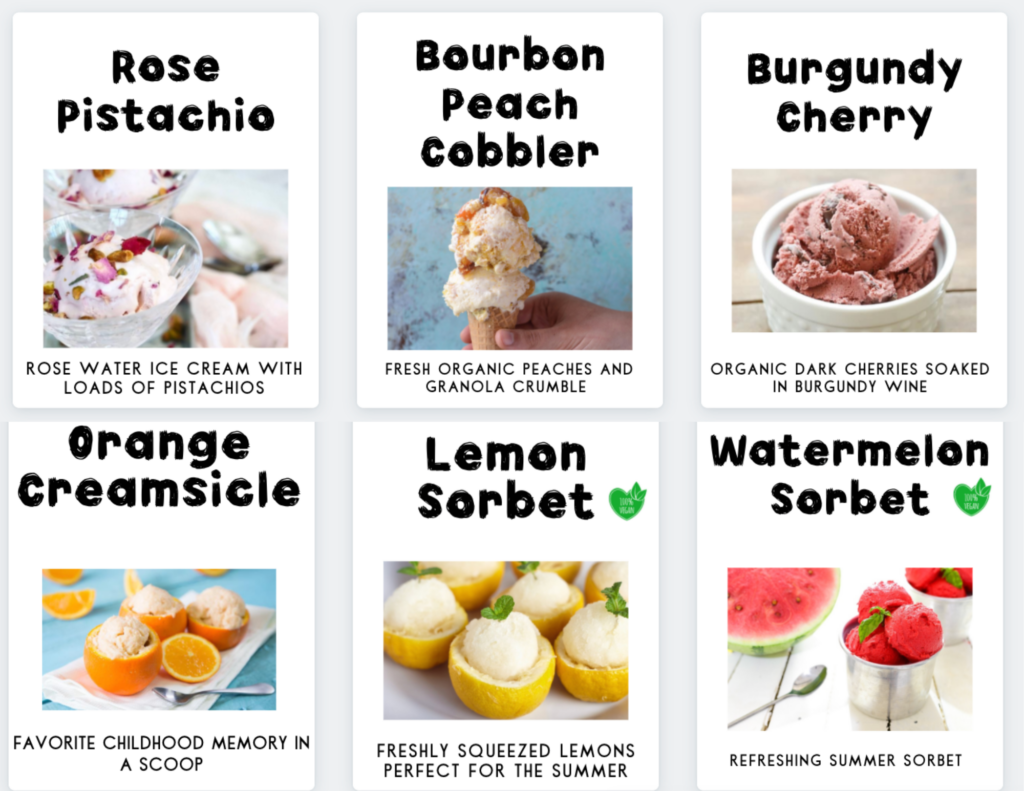 Cinnamon Tree Organics adds flavor to your home cooked meals while avoiding highly-processed ingredients loaded with sugars and chemicals. They bring flavor, wellness, and supply chain transparency in the form of freshly-harvested spices directly from small farmers. Experience what real spices actually taste like by purchasing single-origin spices online, at Dawson's Market in Rockville, and at the Takoma Park Silver Spring Co-op. Keep reading to learn more about Cinnamon Tree Organics from our conversation with Co-Founder, Nadee Bandaranayake.
How did Cinnamon Tree Organics start?
I started Cinnamon Tree Organics in late 2019 after sourcing spices directly from farmers for myself. I grew up in Sri Lanka eating food that was full of flavor and aroma, vibrantly colorful, and loaded with spices. As an immigrant trying to settle down in my new home in North America, the food that I grew up on kept me comforted and grounded. But the spices I found at grocery stores were completely off in flavors, fragrances, colors and textures. I learned that grocery spices can be up to five years old because they go through a long and inefficient supply chain. My solution was to work together with small farmers and build the shortest supply chain to keep spices fresh and naturally flavorful. We are a woman-owned small business based in Maryland.
Sourcing:
Right now, all my spices come directly from small farms in Sri Lanka. We look for native, heirloom varieties as much as possible, grown completely organically and sustainably. We always restock at every harvest season so the spices are fresh and potent and nothing is added in terms of preservatives, fillers, synthetic colors or flavors. We strive to source spices equitably by paying the small farmers their fair share so they can grow their operations and give back to their own communities by creating more jobs and better working conditions.
Products:
The Ceylon cinnamon is native Sri Lankan "true" cinnamon. This is different from the product sold as "cinnamon" in US grocery stores, which is mostly a spice in the same plant family called cassia. Ceylon cinnamon is native to Sri Lanka and is much milder and more complex in flavor.
If you think you know black pepper, think again! Have you tried freshly dried black peppercorn before? Our customers say they didn't think of black pepper as having any flavor, but try ours and you'll taste the complex flavor notes that nature intended you to taste. "Just phenomenal," says one returning customer.
Be sure to head to the brand websites to learn more about each business and how you can support them by buying local. Visit our online Food and Beverage Guide for more #MoCoMade businesses!