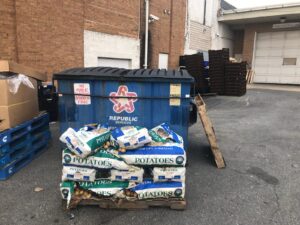 Amidst the COVID-19 crisis, food assistance providers in Montgomery County have significantly expanded their efforts to serve food insecure community members. Along with the increased need amongst residents has come the increased need for food stocks amongst providers, and the continued efforts to reduce food waste. Recently, the Rainbow Community Development Center (RCDC) received roughly 2,500 lbs of unsalvageable spoiled produce from a well-intentioned donor, including 2,000 pounds of asparagus and 500 pounds of potatoes, and utilized their connections within the local food system to arrange a collection by Compost Crew. Compost Crew picked up this rotting produce and hauled it to the composting facility in Prince George's County, keeping the organic mate rials out of landfills, where it will be used to create compost. 
The Rainbow Community Development Center (RCDC) in White Oak, MD provides a variety of services to help families to become self-sufficient, particularly in food security.
Through their Emergency Safety Net Services, Food Pantry, Financial Literacy Classes, Job Search and Resume Preparation services, they serve about 10,000 people annually. Especially during the COVID-19 pandemic, RCDC works to serve clients facing food insecurity.
Compost Crew works to keep food scraps out of landfills, and improve the local soil by converting organic waste into compost. The company serves thousands of homes, businesses, and communities in the Washington, D.C. and Baltimore metro areas, and has composted tens of millions of pounds of organic material since being established in 2011.
Expanding food waste composting infrastructure, and facilitating collaboration and creativity amongst local food system stakeholders, is key to continually improving the resiliency and sustainability of Montgomery County's food system. Thank you to our partners at Compost Crew and Rainbow Community Development Center for your continued efforts to support sustainability and food access in our communities.