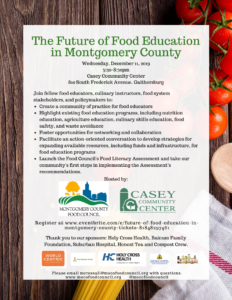 Food Educators, Culinary Instructors, Food System Stakeholders, and Policymakers,
Please join us on Wednesday, December 11th from 5:30-8:30pm for The Future of Food Education in Montgomery County, a collaborative conversation on the current state of food education programming in Montgomery County and our shared vision for the future.
Program agenda includes:
Keynote address by Marilyn Lynk, Executive Director, Center for Health Equity & Wellness at Adventist HealthCare
Moderated panel discussion featuring experts in the field of community nutrition education, workforce development, and agriculture education from Suburban Hospital, the YMCA, Universities at Shady Grove, and the Collaboration Council
Breakout groups focusing on the role of the private sector in providing food education, data collection and evaluation, public engagement, and equity & social justice. Breakout groups will be facilitated by experts from Giant Food, University of Maryland Extension, Holy Cross Health, CHEER, and Manna Food Center.
Priority registration ends on Wednesday, December 6th.
The event is hosted by the Montgomery County Food Council and Casey Community Center, with critical support from Planning Committee members from Alliance for a Healthier Generation, Suburban Hospital, and Healthier Kitchen. The event is sponsored by Holy Cross Health, the Bainum Family Foundation, and Suburban Hospital. Our beverage sponsor is Honest Tea, and our Zero Waste sponsor is Compost Crew. Thank you for your support!
Register here by December 6, 2019. Please contact Massa Cressall at mcressall@mocofoodcouncil.org with questions.