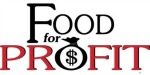 This workshop takes you step by step through the information necessary to start and run a small food product business in Montgomery County. Thursday, December 14th from 9 am – 4 pm at the Agricultural History Farm Park, 18410 Muncaster Road, Derwood, MD.
Although appropriate for any food business owners who want to develop their venture proactively, the workshop is especially directed to individuals who will be making and packing their products for resale (through grocery stores, open-air markets, or restaurants).
Food for Profit is a very practical session, providing information that you will be able to use immediately to ensure that your business starts out and grows in a way that matches your vision and goals.
The program features speakers from the Montgomery County Department of Heath & Human Services, University of Maryland Extension, the Maryland Department of Health & Mental Hygiene and the Red Bandana Bakery.
The $45 registration fee includes training materials and lunch. Register here by December 4th.