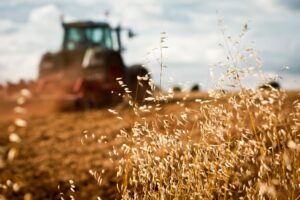 UPDATE AS OF 10/2: APPLICATION CYCLE IS NOW CLOSED.
September 18th, 2020: Montgomery County is now accepting applications for its Farm to Food Bank Capacity Building Grant program. $200,000 in funding will be awarded to assist Montgomery County-based food producing farms with the purchase of equipment, and/or to build food production capacity and infrastructure in order to contribute to the Montgomery County Farm to Food Bank program in 2021. Montgomery County farms can apply for up to $20,000.
Applications for the grants are due by noon on Friday, October 2, 2020, and funds will be distributed beginning Wednesday, October 14th 2020.
Grant awards are funded by Federal CARES Act funding that was appropriated by the County Executive and Montgomery County Council to address local food insecurity during the COVID-19 pandemic, Manna Food Center, and Food for Montgomery, a fund of the Greater Washington Community Foundation.
A panel of local food security and agriculture experts will review the applications and determine grant awards. Manna Food Center is the administrator for the program and will make the funding awards. Grant applications will be reviewed on criteria that includes requests in the priority area such as food production equipment and infrastructure, and the ability of the farm to increase the quantities of culturally appropriate food being provided to local food assistance organizations, to enhance gender/racial/ethnic diversity within the agricultural producer community, and to engage in sustainable farming practices.
To submit an application, please click here. If any farm cannot complete the application online or requires the application be provided in a language other than English, please email Catherine Nardi at cnardi@mocofoodcouncil.org. A Spanish version of the application is readily available.
An information session will be held via Zoom on Monday, September 21st from 9-10am for interested applicants only. Register in advance for the info session at: https://us02web.zoom.us/j/89964509406?pwd=UE5sRmhDWEJkTDNaOHM0QTVHNHQwZz09
Food for Montgomery, a public-private initiative working to address the alarming spike in food
insecurity due to COVID-19, will provide more food to more people while also helping
Montgomery County recover the pandemic.
One of more than a dozen strategies implemented through Food for Montgomery is the Montgomery County Farm to Food Bank program, which seeks to:
Provide fresh, sufficient, nutritious, and diverse produce to food assistance recipients in Montgomery County.
Support Montgomery County farmers, create new market opportunities for farm products, and develop new purchasing partnerships with local farms/farmers to ensure a sustained and resilient food supply for 2020-2021 and beyond.
Reduce food waste by procuring products based on shelf-life, broadening distribution of local farm products to additional County providers, and establishing a secondary sales market for these local products.
The Montgomery County Farm to Food Bank Capacity Building Grant is a partnership between the Montgomery County Food Security Task Force, the Montgomery County Food Council (MCFC), the Montgomery County Office of Agriculture, Manna Food Center, and the Greater Washington Community Foundation.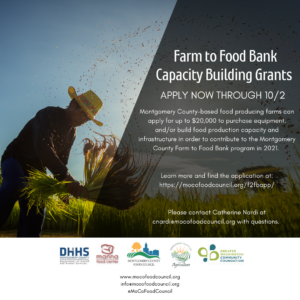 Apply at: https://docs.google.com/forms/d/e/1FAIpQLScy-hwTL0V_SRAnER-_cnDK0vPxk6TUvBa2fKwJhthkGCU_zQ/viewform?usp=sf_link