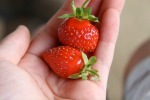 The Montgomery County Master Gardeners 18th Annual Spring Conference will be on Saturday, February 24 from 8:30am-2:30pm. 
The Conference will be held at the University of Maryland Extension, located at 18410 Muncaster Road, Derwood, MD 20855. Topics will include gardening in a changing climate, building healthy soils, garden bugs, living fences, garden design, veggie gardens, herb gardens, pruning, weed control, and understanding pesticide use laws.
To register or learn more, click here.