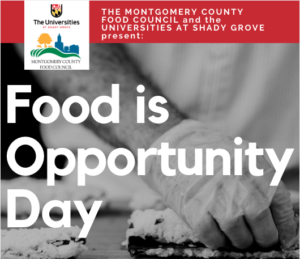 Register now for Food is Opportunity Day on February 12th, 2019! This event is a great opportunity for local food and beverage businesses and farms to sample their product to retail, wholesale, and institutional buyers, build connections and new relationships with buyers and students, and network with other local food and beverage producers.
Schedule for Food Is Opportunity Day:
10:30-11am: Vendor check-in and table set-up
11am-12pm: Producer networking
12-2pm: MoCo Made Expo (Buyers only: 12-1pm)
2-2:30pm: Exhibitors may begin taking down tables. Vendors offering internships or jobs who would like to network with students are encouraged to do so at this time.
2:30-3:30pm: Optional "Scaling a Food Business" panel discussion
4:00pm: Take down must be completed. Detailed logistical information will be provided closer to the date of the event.
Vendors that registered for the 2018-2019 Montgomery County Food and Beverage Guide can attend for FREE. Non-Guide participants will be charged a $25 registration fee. THERE ARE ONLY 20 SPOTS AVAILABLE ON A FIRST COME, FIRST SERVED BASIS.
Licensing info: Food vendors must obtain a $70 Temporary Food Service License in order to sample products at Food Is Opportunity (click here to link to the application form). Beer and wine vendors offering alcoholic beverage samples must also have their own licensing in place
 (click here to link to the Alcohol License Application)
.
All licenses must be brought to the event. 
Please note that there will also be a pre-event workshop for businesses, featuring Kim Bryden from
Cureate. 
In this workshop, we will discuss what is needed for you to confidently pitch a prospective Buyer from sell sheets to your brand narrative.
ALREADY REGISTERED?
Here are some helpful links for those that are already registered for Food is Opportunity Day.
Please contact Catherine Nardi at cnardi@mocofoodcouncil.orgwith any questions. Thank you!