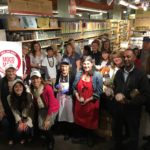 The Montgomery County Food Council was thrilled to partner with Dawson's Market on November 14th for a special Meet the Locals event to share The 2017-18 Montgomery County Food and Beverage Guide and MoCo Made logo. The second annual Food and Beverage Guide showcases the diverse array of food and beverages produced in farms and kitchens located in Montgomery County, or by businesses headquartered here. The 2017-18 Guide formally launches the new MoCo Made brand, created in partnership with the Montgomery County Economic Development Corporation to celebrate and increase the visibility of our county's vibrant local food and beverage community.
Dawson's Market, located in Rockville Town Center, celebrates community through local and organic food, and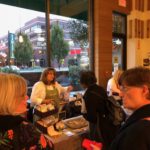 believes their success relies on building strong relationships within the local community. They work with local organizations, source local products, and encourage the buying of local goods throughout the community. Dawson's hosts an event called Meet the Locals on the second Tuesday of the month, bringing in their local vendors to sample and sell their products. In honor of the launch of the 2017-18 Food and Beverage Guide, Dawson's hosted a special Meet the Locals Event on Tuesday, November 14th from 4pm-7pm in partnership with the Montgomery County Food Council. This event provided food businesses in the County with an excellent opportunity to increase their visibility, interact with customers, and connect with other vendors and producers in the County.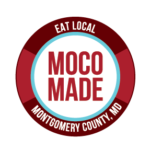 The November Meet the Locals was a successful event that not only highlighted the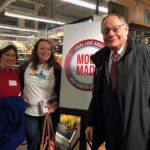 incredible local food system in Montgomery County, but it also celebrated the collaborations between local businesses, nonprofits and government to make it easier to source food locally and facilitate connections between the people in our community who grow and make food and their neighbors who eat it. More than fifteen Montgomery County producers shared delicious samples of their products at the event, including Caulfield Provision Company, Chouquette Chocolates, Denizens Brewing Company, Dip n Dill, Dress It Up Dressing, Honest Tea, MeatCrafters, Inc., Moorenko's Ice Cream, MV's Hawaiian Shaved Ice, Seedy Nutty Company, Sugo Sauces, Swiss Pastries Inc., The Red Bandana Bakery, Tsiona Foods and Waredaca Brewing Company. The event was also very well attended by representatives of local government and agencies, Food Council partner organizations, as well as Food Council Members and Working Group Members.
Click on the links below to view media coverage of the Meet the Locals event: