Montgomery County Food Council Members, Working Group Members and staff recently had the opportunity to visit two partners who are doing fantastic food system work in the County: the Takoma Park Silver Spring Community Kitchen and Koiner Farm.
Takoma Park Silver Spring Community Kitchen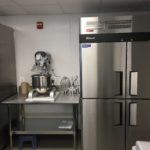 On a quiet, leafy, residential street just steps from downtown Takoma Park, Food Council partner Crossroads Community Food Network recently opened the Takoma Park Silver Spring Community Kitchen. This 1,120-square- foot facility features affordable, state-of- the-art commercial cooking and prep space to those who want to start small-scale food businesses. Jennifer Underwood, Community Kitchen Manager at Crossroads led the Food Council on an informative and enjoyable tour of the kitchen.
On our visit, Jennifer shared that many small-scale entrepreneurs do not have the financial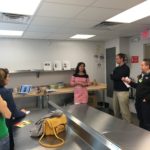 means to invest in their own production facilities or to pay the prohibitively high rental costs at the handful of available commercial kitchens in the DC area. To help address this unmet need, Crossroads developed the shared-use kitchen to extend the opportunity of entrepreneurship to more community members. The kitchen meets all local health and safety requirements governing food produced for sale to the public, and is available to graduates of Crossroads' Microenterprise Training Program. This free, bilingual 10-part workshop series makes sometimes difficult-to-find and difficult-to-understand information more accessible, and covers food safety basics, business fundamentals, and everything in between.
The kitchen is currently in its pilot phase and has is being used by the following seven approved entrepreneurs, who are making everything from baked goods, to ice creams, to mason jar salads: Capital City Sweets and Treats, Gypsy Diva Fresh, Marble Arch Gardens, Karing Cakes and Confections, Nancia's Antojitos, El Carreton and Cheryl's Kitchen. The kitchen expects to expand the number of users following the conclusion of the pilot phase.
Koiner Farm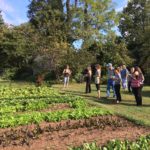 On an unseasonably warm day in early October, Food Council Members and Working Group Members were treated to a tour of Koiner Farm with Kate Medina, Founder of the Charles Koiner Center for Urban Farming Education (CKC Farming, for short). Koiner Farm is an agricultural oasis that sits on 1-acre of land, just steps away from bustling downtown Silver Spring. This small urban farm grows a wide variety of produce, including greens, herbs, root vegetables, beans, berries and tree fruits, which they sell at the FRESHFARM Silver Spring Farmer's Market, as well as from their property.
The Food Council also had the opportunity to learn about CKC Farming, which is an educational nonprofit that enhances food literacy in their community by providing engaging, outdoor, hands-on, science-based learning experiences for children on school field trips.
The Food Council is grateful to Jennifer at Takoma Park Silver Spring Community Kitchen and Kate at Koiner Farm for hosting us!