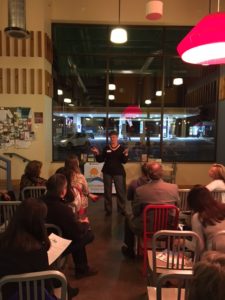 New, established and prospective food and beverage businesses gathered at Dawson's Market in Rockville on February 21st for a Networking and Discussion Event: Making it easier to start and run a food or beverage business in Montgomery County. Judy Stephenson, Small Business Navigator in the Montgomery County Office of the County Executive, was on hand to solicit candid feedback from local businesses on the challenges they have encountered launching and operating their businesses. The 35 food or beverage business owners in attendance shared their perspectives on and experiences with contradictory or confusing regulations, aspects of the licensing process that were more time consuming or costly than expected, and the regulations that were perceived as overly burdensome but not necessary for public health and safety. The event provided a productive and effective forum to open a candid dialogue between the County Executive's Office and the County's local food and beverage producers.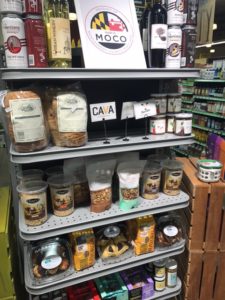 At the event, the Food Economy Working Group also introduced a new Made in MoCo branding initiative that is currently being explored by the Food Council and its partners. This goal of the Made in MoCo initiative is to increase the visibility of the diverse array of food and beverage businesses produced or headquartered in Montgomery County, and promote these products among consumers, wholesalers, retailers and restaurateurs in the area. The Food Economy Working Group presented a Made in MoCo draft logo, which could be printed on product stickers and display signs for retail grocery stores, and Dawson's Market designated an end cap shelf for MoCo Made products on the evening of the event. The endcap featured the Made in MoCo draft sign and approximately 15 locally made products, including products from Denizens Brewing Company, the Urban Winery, Spring Mill Bread Company, Ester's Granola, Oat My Goodness, Mayorga Coffee, Charmed Bar, Chouquette Chocolates, Dress It Up Dressing, and more. The Made in Moco concept and end cap shelf display were well received by the food and beverage business owners in attendance, and the Food Economy Working Group will continue to explore ways to formally launch the initiative in the coming months.
Attendees also had the opportunity to network and enjoy happy hour pricing on food and drinks offered by Dawson's Market at the end of the program.