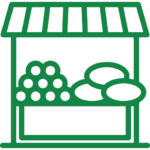 Our goal is to develop and sustain an economically viable local food system.
We represent and support all stakeholders including:
farmers, producers, food entrepreneurs
chefs and restaurateurs
distributors
retailers
consumers of local foods
Current Projects:
Establish a Food Hub – Conduct supply chain analysis and advocacy to support the development of a Food Hub and establish greater connectivity between farmers, food retailers, and food producers.
Kitchen Incubator – Advise the progress of the kitchen incubator project to ensure that it is realized as envisioned, monitoring and facilitating the development process and continuously engaging with stakeholders.
Past Projects:
The Montgomery County Food and Beverage Guide – We created a comprehensive guide for all Montgomery County food and beverage products that features packaged goods (such as condiments, snacks and sauces), beverages (alcoholic and non-alcoholic), and desserts and confections created by Montgomery County food artisans. We hope this Montgomery County publication will generate interest and promote businesses among consumers, wholesalers, retailers and restaurateurs in the area. The guide may be downloaded here: Montgomery County Food and Beverage Guide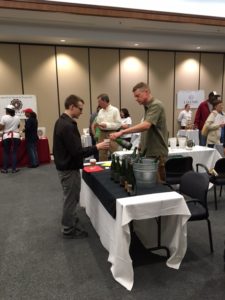 The MoCo Made Food and Beverage Fair – We hosted the MoCo Made Food and Beverage Fair in September 2016, which featured Montgomery County producers of packaged goods, beverages, desserts and confections. Over 20 local vendors displayed their goods to over 20 regional distributors, restaurant, wholesale and retail buyers at this dynamic event at the Universities at Shady Grove. The Fair provided a valuable opportunity for vendors and buyers to connect with one another while simultaneously increasing the visibility of our County's growing craft food and beverage industry.
Eat Local Challenge – We coordinate the first year-long Eat Local Challenge, featuring four seasonal recipe challenges, in partnership with local farmers, restaurants, and markets to connect local producers with local purchasers, promote place branded marketing, and highlight the quality of county products.
Resources:

Judy Stephenson is a resource for individuals starting new food and beverage businesses in Montgomery County. As the Montgomery County Small Business Navigator, Judy helps small businesses in their  interactions with County Government. Businesses contact Judy with questions about County licenses, permits, regulations and contracting opportunities.
Phone: 240-777-2012 / Email: judy.stephenson@montgomerycountymd.gov