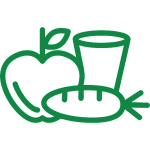 The Food Literacy Working Group's mission is to improve the eating habits of those who live, work, or play in Montgomery County.
We implement this goal through advocacy and education on:
healthy food choices,
cooking skills,
food safety,
food marketing, and
participating in the local, sustainable food system.
Current projects include:
Resource List: Develop a comprehensive list of Food Literacy resources and stakeholders in Montgomery County.
Advocacy Listserv: Establish a listserv to connect local policy, advocacy groups, businesses and individuals to discuss current policy issues and provide a forum for circulating relevant petitions and advocacy opportunities.
Resources:
Gardens Brochure: We created a print brochure to educate school leaders of the benefits of and resources available for having a school garden. This brochure can also be customized for other facilities, such as apartment buildings or retirement communities. The brochure is now available for download: MCFC School Garden Brochure
Food Literacy Web Resources: We compiled a list of Food Literacy web resources in the areas of agriculture, advocacy, cooking, food and food systems research, and more. Click here to access this resource.
Our Volunteers: