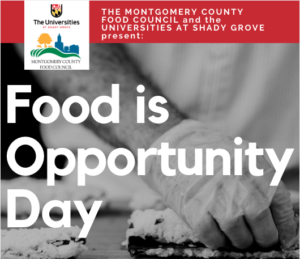 Food is Opportunity Day will be held in partnership with the Universities at Shady Grove on February 12th, 2019! This event provides a great opportunity for local food and beverage businesses and farms to sample their product to retail, wholesale, and institutional buyers, build connections and new relationships with buyers and students, and network with other local food and beverage producers. The event will also feature educational panels to showcase the diverse career paths within the local food system, as well as to teach students and small food and beverage businesses how to scale a business. 
Schedule for Food Is Opportunity Day:
10:30-11am: Vendor check-in and table set-up
11am-12pm: Producer networking
12-2pm: MoCo Made Expo (Buyers only: 12-1pm)
2-2:30pm: Exhibitors may begin taking down tables. Vendors offering internships or jobs who would like to network with students are encouraged to do so at this time.
4:00pm: Take down must be completed. Detailed logistical information will be provided closer to the date of the event.
The event will be held in the Rockville/Potomac Room of Building II at the Universities at Shady Grove (9630 Gudelsky Dr, Rockville, MD). Parking will be available in the Traville Gateway Garage.
ALREADY REGISTERED?
Here are some helpful links and information for food/beverage businesses that are already registered for Food is Opportunity Day.
Please contact Catherine Nardi at cnardi@mocofoodcouncil.org with any questions. Thank you!
Thank you to our event sponsors, the Takoma Park Silver Spring Co-Op and Dawson's Market!