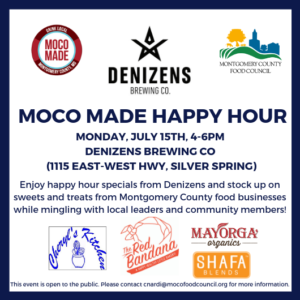 Join us for a MoCo Made Happy Hour on Monday, July 15th from 4-6PM at Denizens Brewing Co.! Enjoy MoCo beers and purchase products from Cheryl's Kitchen, the Red Bandana Bakery, and Mayorga Organics while mingling with local food system partners and community members. Happy Hour specials will be available to all guests. We hope you'll join us to celebrate our thriving local food and beverage sector and promote MoCo Made!
Where: Denizens Brewing Co, 1115 East-West Highway, Silver Spring, MD
When: Monday, July 15th, 4-6PM
What: An evening bringing together community partners to enjoy great drinks and delicious food made in MoCo!
Questions? Please contact Catherine at cnardi@mocofoodcouncil.org.