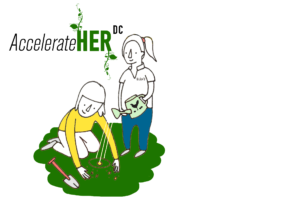 Beginning on March 1st, applications will open for the AccelerateHER competition hosted by Glen's Garden Market. AccelerateHERdc aims to identify and incubate the entrepreneurial success of local, retail-ready, female food producers creating products with a commitment to sustainability and doing so within the Chesapeake Bay Watershed.
Any local, women-owned food businesses interested in applying must demonstrate a commitment to sustainability; have been in business between one and five years; and have developed a product or product line that is either retail-ready or already on retail shelves. Judging criteria will include: deliciousness and mindfulness of product; viability of concept and vision; and demonstrated commitment to sustainability and scaleability.
The winner will receive a $10,000 investment from Glen's Garden Market; a year-long mentorship with Founder Danielle Vogel, Grocery Department Head Merrill Dagg, and Marketing Director Shana Muhammad; one hour per month of human resources and strategic planning consulting with Melissa Jones; and free admission to present at the Good Food Mercantile in Brooklyn this July.
Applications will be accepted between March 1 and March 31. Judging will occur in two phases: a panel review on April 8, and a live pitch competition for the finalists on April 22, 2018.
The application will post here on March 1. For more information or any questions in the meantime, email info@glensgardenmarket.com.