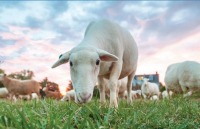 American Farmland Trust invites all women who own farm or forest land in Montgomery County to join them for a Learning Circle comprised of three sessions of engaging discussion and fellowship focused on women landowners and conservation planning on their land.
The Women For The Land Conservation Learning Circle is an American Farmland Trust program designed for women landowners who own and make management decisions on Maryland farm or forest land. During the Learning Circle, women landowners will be guided through conservation agency resources that are available to them as farm or forest landowners.
The first session will be on March 12 from 9am-3pm at the Montgomery County Agricultural Services Office in Derwood, MD. The second session will be on March 20 from 9am-3pm at Madison Fields in Dickerson, MD. The third session will be on April 3 from 3pm-8pm at the Montgomery County Agricultural Services Office.It's recommended to attend all three sessions, however, it is not required. The cost of the entire program is $15, or $5 per session. Lunch is included.
Click here to register and learn more.