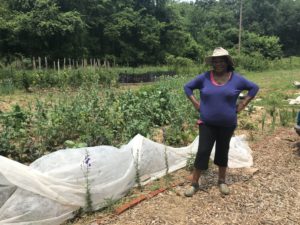 Each of our 25 Council Members hold important roles in the Montgomery County food system. These roles range from food assistance work, to running a composting business, to farming. One such farmer is Tanya Spandhla, a Council Member in our Food Economy Working Group. Tanya's farm, Passion to Seed Gardening, is home to a variety of organically grown crops, many of which are native to her birthplace of Zimbabwe.
Tanya started gardening in 2010 at the Germantown Community Garden, and moved onto a bigger plot in the Spring of 2015. Tanya personally benefitted from growing and eating her own sustainable produce, and thus decided to expand her hobby into a business. According to Tanya, the greatest benefit of farming has been "the satisfaction and gratification of knowing that my customers across the spectrum cherish and enjoy my produce." Some of the crops grown at Passion to Seed Gardening include green onions, tomatoes, swiss chard, Zimbabwean corn, white pumpkins, and rapini.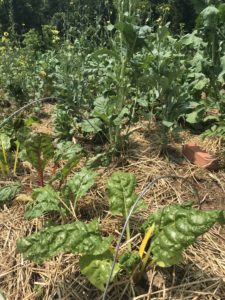 Tanya has enjoyed becoming immersed in the farming community here in Montgomery County, and appreciates the support she has received from other farmers and organizations. "The fact that the county set aside an Agricultural Reserve speaks volumes about the importance of agriculture in Montgomery County. Farmers and consumers cherish this idea of living in the city with proximity to a rural setting where they can interact with each other on the farms and at farmers markets; this makes it a thriving and wholesome community," says Tanya. Since becoming involved with the Food Council, Tanya has had the opportunity to represent the concerns, challenges, and triumphs that Montgomery County farmers face. Being a part of the Food Economy Working Group, which focuses on local food producers, distributors, retailers, and consumers, has allowed Tanya to be a part of a greater discussion on how all of the involved parties can be best served. Tanya will be featured in a new book being released this summer by Claudia Kousoulas, titled "Bread and Beauty". This book chronicles the history of Montgomery County's Agricultural Reserve, and includes stories from several farms and farmers currently using land in the Agricultural Reserve.
When Tanya is not busy tending to her bountiful crops at the farm, she also enjoys cooking for her family. Her favorite recipe to share is pumpkin leaves with a peanut butter sauce, detailed below.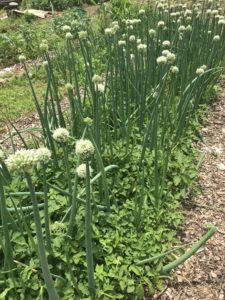 Ingredients:
1 bunch of pumpkin leaves (washed and drained)
1 large tomato chopped (about 1 cup)
½ cup water
1 jalapeno pepper, stemmed, seeded, and minced (to taste)
Salt and freshly ground black pepper
2 tablespoons all-natural peanut butter
Method:
Remove the bark and spiny bits from the pumpkin leaves and chop roughly.
In a pot or large skillet, bring water, cooking oil of your choice, salt and a pinch of bicarbonate of soda* to a boil.
Add the greens, chopped tomato, chopped onion**, and simmer for about 10 minutes, until they are tender.
Remove the vegetables from the pot and stir the peanut butter and jalapeno into the remaining liquid. When it's blended, add the vegetables back in and stir to mix. Serve hot.
Tasting notes:
* "Some cooks use a pinch of bicarbonate soda to tenderize tougher pumpkin leaves or other greens.
** I also cook pumpkin leaves with a little chopped onion and olive oil and can also add pieces of sliced up pumpkin and its flowers to enhance the flavors."