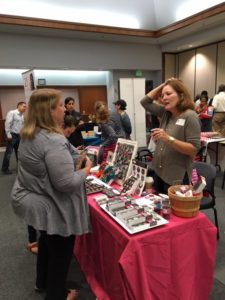 The Montgomery County Food Council was excited to host its inaugural MoCo Made Food and Beverage Fair on September 30th at the Universities at Shady Grove. An initiative of the Food Council's Food Economy Working Group, this event provided an opportunity for more than 20 food and beverage vendors to display their products and provide delicious samples to a diverse and engaged group of distributors, restaurant, wholesale and retail buyers. The event was not only a valuable opportunity for local food and beverage artisans to meet and connect with distributors and buyers, but it also showcased the diverse and delicious array of foods and beverages made in Montgomery County. The more than 20 distributors and buyers in attendance had the opportunity to sample a range of delectable products, including injera crisps, salad dressings, sauces and spreads, honey, wine, beer, ice cream, chocolates, snacks and granola, soup, coffee and a variety of baked goods.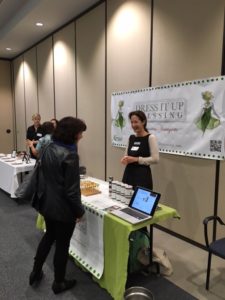 This successful event supported the Food Council's efforts is to develop and sustain an economically viable local food system, which is achieved by supporting our County's farmers and food and beverage artisans, making connections between local producers and consumers, and encouraging residents and businesses to eat and drink locally. Food Council Member and Founder of Dress It Up Dressing Sophia Maroon displayed her delicious salad dressings at the Fair. She said, "Whether creating a new relationship or strengthening an existing one, the Fair was terrific opportunity to get a lot of business done quickly. I really enjoy meeting so many buyers who are focused on getting to know those of us who are making products right here in the County.  It was also a rare treat to connect with my fellow food-makers – there are some truly talented bakers, makers and crafters here and we should come together more often."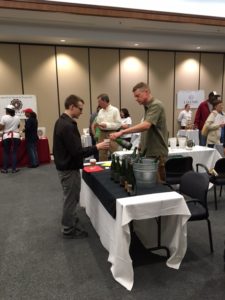 Vendors at the Fair included BannerBee Company, Bee America, Bread Corner, Chouquette Chocolates, Dear CoCo Chocolates, Dress It Up Dressing, Ester's Granola, Great Shoals Winery, Levande Patisserie, Me & 3, Moorenko's, Nagadi Coffee, People's Broth, Picnic Spreads, Red Blossom Kitchen, Seedy Nutty Company, Simply Delicious Desserts, Simply Mixt by Capital City Sweets & Treats, Sugo Sauces, The Chocolatier's Palette, The Red Bandana Bakery, The Urban Winery, Tsiona Foods, Waredaca Brewing Company and Zivaara.