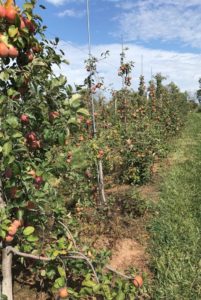 Welcome to fall! The leaves are changing and so are the produce offerings. Winter squash varieties continue to expand, and apples take over as the most popular fruit at the farmers market.
Fruit: Apple season will linger throughout the month of October, so there's still plenty of time to pick-your-own or whip up some pie! Additionally, pear season is in full swing, and several MoCo farms produce asian pears. Look out for these apple-pear hybrids, boasting a light sweetness like a pear but the crispness of an apple, all month long.
Vegetables: Hearty squashes like butternut, pumpkin, and acorn are at their best this time of year. If you're lucky enough to find spaghetti squash at your market, take advantage! This large yellow squash has flesh that resembles spaghetti strands, and is a tasty veggie replacement for real pasta. Try seeding and roasting a spaghetti squash drizzled with olive oil in the oven at 425 degrees for about 45 minutes, or until the flesh is tender. Use two forks to shred the deep golden strands, and top with your favorite pasta sauce and protein!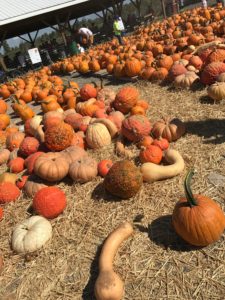 What do I do with all these apples?: Overdid it while picking your own apples? No fear: make apple sauce! Follow these directions for a simple, no sugar added apple sauce.
Peel, core, and dice ~3 lbs of apples. Add to a large saucepan with 1/2 cup water, 1-3 cinnamon sticks (depending on how much cinnamon flavor you desire), a teaspoon of pumpkin spice seasoning, a squeeze of lemon juice and a few drops of vanilla extract. Bring to a boil, then let cook on low for about half an hour. Option to puree in a food processor for a smoother applesauce, or just mash with a spoon for chunky. Let cool and enjoy! Store leftovers in the fridge.
Check back in November for another look at what's in season here in Montgomery County.