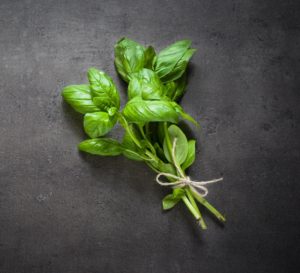 Welcome to our "Plant-Forward Cooking in Montgomery County: Sustainable and Delicious Solutions" blog series! Created by members of our Environmental Impact Working Group, this series intends to encourage greater adoption of sustainable plant-based eating by Montgomery County residents. Featured blog posts will contain recipes and cooking tips for plant-forward, vegan recipes, with a focus on hyper-local ingredients and seasonal eating options in Montgomery County. We will be working with a variety of local farms, nonprofit organizations, and other partners to generate the recipes, tips and content. We hope to build upon the existing resources that have been created to highlight the abundance of local, seasonal produce that Montgomery County farms and producers have to offer.
The recipe below is courtesy of  James Ricciuti, Owner and Executive Chef of Ricciuti's Kitchen in Olney, MD. Chef James conducted the chef demo at our MoCo Made Day at the Olney Farmers and Artists Market on Sunday, July 7th, and made this plant-forward recipe using fresh produce from our MoCo Made partner, Common Root Farm. 
In mid-July, local farmers market tables are sure to be abundant with all types of tomato varieties.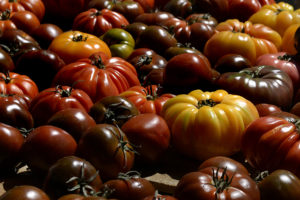 Tomatoes are at their best this time of year, as are fresh herbs like basil. This summer pasta recipe is light and flavorful, and features the best fresh flavors of summer in a healthy, easy to make dish. It's the perfect quick dinner for company, served with a glass of local white wine, or for a simple weeknight dinner.
Aglio e Olio with Fresh Tomatoes & Basil (Pasta with Garlic and Oil)
Serves 2
Ingredients
8 ounces pasta

1/4 cup extra virgin olive oil plus 1 tablespoon to char tomatoes

8 ounces cherry type tomatoes

 

2 teaspoons minced garlic

 

1/8 teaspoon red pepper flakes, to taste 

1 teaspoon freshly squeezed lemon juice

1 tablespoon finely chopped basil leaves (cut into a chiffonade)

Flake-style salt (or sea salt)
Instructions
In a bowl large enough to toss the pasta, add the tomatoes and a 2-finger pinch of flake-style salt. Gently toss to distribute then set aside.

Heat the pan with oil, cook till tomatoes start to char (blacken) about 5 mins.  Remove and set aside

Add ¼ cup olive oil, 1 teaspoon of minced garlic, and the red pepper flakes to a medium non-stick pan and heat over medium-low to low, swirling frequently. Once the garlic is straw color, move off the heat, then add the lemon juice and remaining 1 teaspoon of garlic.

 

Note:

 

You want to simmer the oil low and slow – it should look effervescent and bubbling. Meanwhile, bring a large pot of water to a boil, generously season the water with flake-style salt, and cook the pasta per the box instructions for al dente.

 

If the garlic oil finished before the pasta, put it back over a medium to medium-low flame and reheat before the pasta is done.

 

When the pasta is al dente, transfer it directly to the pan with the garlic oil, add 1 tablespoon of pasta water,

 

and briskly toss the pasta and oil over medium heat until the sauce coats the noodles (about 1 – 2 minutes).

 

Note:

 

During the transfer, it's ok if a little liquid comes over with the pasta as it helps bring the sauce together.

Scrape all of the contents into the bowl with the tomatoes, add the basil, then toss thoroughly. Add salt and pepper to taste, and serve immediately.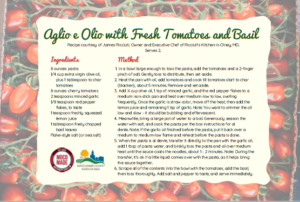 See below for photos of the recipe being made by Chef James during our MoCo Made Day at the Olney Farmers Market on July 7th!