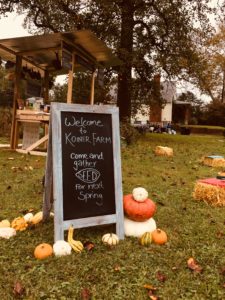 Welcome to our "Plant-Forward Cooking in Montgomery County: Sustainable and Delicious Solutions" blog series! Created by members of our Environmental Impact Working Group, this series intends to encourage greater adoption of sustainable plant-based eating by Montgomery County residents. Featured blog posts will contain recipes and cooking tips for plant-forward, vegan recipes, with a focus on hyper-local ingredients and seasonal eating options in Montgomery County. 
Throughout this series, we will be working with a variety of local farms, nonprofit organizations, and other partners to generate delicious recipes, tips and content. We hope to build upon the existing resources that have been created to highlight the abundance of local, seasonal produce that Montgomery County farms and producers have to offer. The recipe below is courtesy of Koiner Farm.
The Food Council and Bethesda Green will be hosting a tour of Koiner Farm on Sunday, 10/20, in celebration of Community Food Rescue Week. Come by the farm anytime between 2-4pm for a composting demo and tour! Register here.
During the fall and winter months, soup is the ideal cozy dish to make ahead of time for a busy weeknight dinner or meal-prepped work lunch. Incorporating plant-based protein will ensure that you're satisfied and energized for hours afterwards, and using local, seasonal produce will provide nutritional benefits as well.
Did you know that meal prep can reduce food waste and save money, since about 40 percent of food waste happens in our homes? By choosing a meal to make ahead and have throughout the week, individuals are less likely to buy too much at the store and have it go unused.
Meal Prep Mate is designed to help cooking novices and experts alike avoid over-purchasing and over-prepping by building personalized shopping lists, portioning out meals, and making use of ingredients you may already have. Learn more on the Community Food Rescue blog.
The recipe below uses many household staples, like oil, onion, garlic, and water, and is flexible on the type of starch used as a base– whatever is around will likely work. Coconut milk provides a plant-based alternative to heavy cream, and curry powder offers a unique, slightly spicy taste sensation, which perfectly complements the sweetness of an in-season butternut squash.
Butternut Squash Soup
Serves 4
Nothing says fall like a warm butternut squash dish after working outside on a crisp day.  This recipe is sure to fill your fall senses.  
Ingredients
1 cup cubed butternut squash
1 chopped onion
2 tablespoons vegetable oil
1 table spoon ginger root, finely chopped
2 garlic cloves, finely chopped
1 1/2 or 3 tablespoons curry powder
1 teaspoon salt
1 1/2 cups (or 10 ounces) dried red lentil
1 can (15 oz) coconut milk (you can use light, if preferred)
2 cups water
Cilantro or parsley, for garnish
Brown rice, wheat berries or other starch, for base

 

Method:

Saute the onion, then add the squash.  Don't let the squash get too soft.
Add ginger, garlic and curry powder and saute for 1 or 2 minutes more.
Add coconut milk, water, lentils and salt.
Cook on low simmer until the lentils are soft, about 15 minutes.
Serve over brown rice, wheat berries, or other starch.
Garnish with cilantro or parsley.