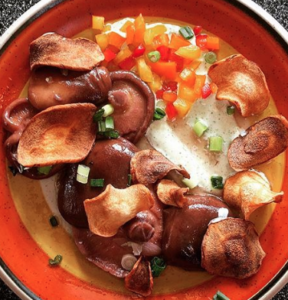 Welcome to our "Plant-Forward Cooking in Montgomery County: Sustainable and Delicious Solutions" blog series! Created by members of our Environmental Impact Working Group, this series intends to encourage greater adoption of sustainable plant-based eating by Montgomery County residents. Featured blog posts will contain recipes and cooking tips for plant-forward, vegan recipes, with a focus on hyper-local ingredients and seasonal eating options in Montgomery County. 
Throughout this series, we will be working with a variety of local farms, nonprofit organizations, and other partners to generate delicious recipes, tips and content. We hope to build upon the existing resources that have been created to highlight the abundance of local, seasonal produce that Montgomery County farms and producers have to offer.
The recipe and content below are courtesy of Watershed Cafe. Watershed Cafe will be hosting a fundraiser to support the Food Council on Friday, September 13th, and will donate 10% of food sales all day to the Food Council. We encourage our community members to stop by Watershed Cafe anytime from 7am-9pm to enjoy delicious food and support the cultivation of a more robust, sustainable, equitable local food system!
Watershed Cafe in Poolesville, MD, is the ONLY restaurant in the Montgomery County Agricultural Reserve that features and promotes the food grown in the Agricultural Reserve. The cafe serves breakfast, lunch, and dinner, and has exciting specials that showcase the local, seasonal options grown and produced by our County's farmers. 
The cafe sources from the following Montgomery County farms, most of whom are featured in this video: 
Plow and Stars Farm: Lamb, eggs, fruit, and vegetables

One Acre Farm: Fruits and vegetables

Eat the Rainbow Farm: Vegetables

Kenzie's Koop: Eggs and pork

Savage Acres Farm: Pork, beef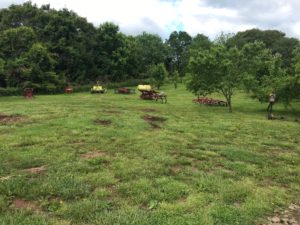 The Marinated Shitake Mushroom Salad included below combines many fall flavors that are simultaneously comforting and surprising. Each element is its own balancing act of umami and contrast. Together, they create the perfect starter salad for a seasonal meal, that could be easily adapted as an hors d'eouvre. 
Marinated Shitake Mushrooms with Parsnip Chips, Tarragon Aioli and Smoked Peppers
Makes 4-5 small salads. Requires advanced preparation (3-4 hours total).
Ingredients for the mushrooms: 
1 lb Shitakes, gently rinsed to remove any dirt.

1 cup red wine vinegar

Fresh Tarragon, about 5 small stems with leaves

½ cup olive oil

½ cup water

2 shallots

½ tsp kosher salt
Remove any hard ends from the mushroom stems.

Slice shallots very thin.

Place all of the ingredients except the mushrooms in a small pot and bring to a simmer for 1 minute. Remove from heat and let cool completely. You don't want to "cook" the mushrooms in a hot liquid, they will be marinated instead.

Once the marinade is cool, place the mushrooms in the smallest possible container they will fit in (a jar or tupperware type is fine).

Pour the marinade over top of the mushrooms and stir to distribute.

Cover and let sit overnight or for at least 3-4 hours. This will keep for at least 5 days in the fridge, and can be made ahead of time.
Ingredients for the parsnips:
2 large parsnips

1 cup canola oil

2 tsp kosher salt
Do not peel the parsnips. Slice them thinly on a mandoline or with a knife. Either way, cut them on an angle to create ovals, not circles.

Heat the oil in a small saucepan over medium high heat. If you have a kitchen thermometer, bring the oil to 375 degrees F. If you don't have a thermometer, just use a few small pieces of parsnip to test. When the oil is the right temperature, the chips will sizzle immediately and turn golden brown in 10-20 seconds.

Fry the chips in small batches. No more than 7-8 pieces at a time. Remove them with a slotted spoon and place them on a tray with paper towels to drain.

Sprinkle with salt while they are still hot.

Do not refrigerate these. Treat them like potato chips, in a closed bag or container.
For the Aioli:
¼ cup vegan mayonnaise 

2 T of the mushroom marinade, after mushrooms have been marinating for at least 3-4 hours.

2 T fresh tarragon leaves, finely chopped.
Mix together thoroughly.
For the peppers:
Two whole sweet bell peppers

1 small handful of hardwood chips (hickory, cherry, etc) or grape vine trimmings
Remove the seeds and stems and chop the peppers into tiny diced pieces.

There are many ways to get the smoke flavor into foods. For this recipe, you may use a stove-top improvised method. Use a frying pan or saute pan that has a lid and is at least 8" across.

Place the wood chips right in the middle of the pan, and place the chopped peppers all the way off to the side. Put the cover on slightly askew and put the whole thing over medium heat on your range.

Once you see wisps of smoke, cover the pan tightly and remove from the heat.

Let sit for 5 minutes. Taste the peppers. If they need more smoke flavor, repeat the whole process. The peppers should still have the sweet crunch of a raw pepper.

The peppers can be stored in a sealed container in the refrigerator for up to 3 days. 
Plating Suggestion:
Start by taking a couple of tablespoons of the aioli and making a stripe on one side of the plate.

Take 5-6 whole mushrooms and make a similar line next the aioli. Try to get a variety of sizes.

Scatter 7-8 chips on top of the mushrooms and place a small spoonful of the peppers on top of the aioli.

Garnish with finely chopped scallions.