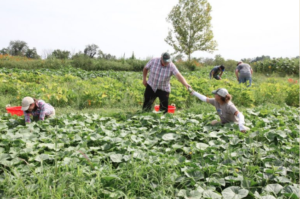 Welcome to our "Plant-Forward Cooking in Montgomery County: Sustainable and Delicious Solutions" blog series! Created by members of our Environmental Impact Working Group, this series intends to encourage greater adoption of sustainable plant-based eating by Montgomery County residents. Featured blog posts will contain recipes and cooking tips for plant-forward, vegan recipes, with a focus on hyper-local ingredients and seasonal eating options in Montgomery County. 
Throughout this series, we will be working with a variety of local farms, nonprofit organizations, and other partners to generate delicious recipes, tips and content. We hope to build upon the existing resources that have been created to highlight the abundance of local, seasonal produce that Montgomery County farms and producers have to offer. The recipe below is courtesy of Red Wiggler Farm. 
Red Wiggler is a sustainable farm located in Germantown, where adults with and without disabilities come together to work, learn, and grow healthy food. Learn more about their produce and their mission at redwiggler.org.
Planning a Thanksgiving meal can be stressful; the average cook might spend up to 9 days preparing!  For an easy, healthy, plant-forward side dish that requires minimal prep time, ingredients, and clean-up, try this Roasted Sweet Potato and Celery Root recipe from our partners at Red Wiggler Farm. This recipe can be easily doubled or tripled to serve more guests, and takes less than 30 minutes from start to finish! To save even more time, the veggies can be chopped a day or two in advance and refrigerated until ready to roast.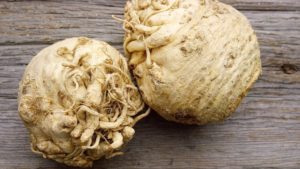 A word from Red Wiggler: "This was our first year growing celeriac, or celery root, for our customers, and the experiment went pretty well. Though celery root has an intimidating look, the taste should be familiar to most. The root and leaves have a strong celery flavor. Although it is a staple in soups, celery root can also be mashed or roasted like white potatoes. We've been having a lot of fun harvesting and processing this gnarly vegetable for our customers this fall."
Roasted Sweet Potatoes and Celery Root 
Serves 2-3
1 medium celery root (celeriac), peeled, cut into 1½" pieces
1 medium sweet potato, peeled, cut into 1½" pieces
2 tablespoons walnut oil or olive oil
Kosher salt and freshly ground pepper
1 tablespoon cider vinegar
2 tablespoons chopped toasted walnuts (for serving)
Fresh thyme leaves (for serving)
Preheat oven to 425°.
Toss celery root and sweet potato with oil on a rimmed baking sheet and season with salt and pepper.
Roast until celery root is golden and both vegetables are tender, 20–25 minutes.
Toss the warm roasted roots with vinegar. Serve topped with walnuts and thyme.
The Food Council wishes you a happy, healthy, and delicious holiday season!