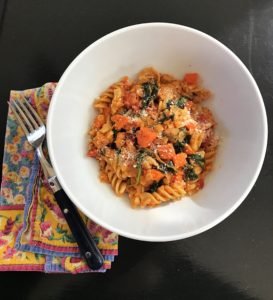 By Food Council Member, Wendy Nevett Bazil
@healthierkitchen
(Serves 8 – 10)
I love this dish mostly because it tastes great, but also because it's a terrific dish without any animal protein that still has a meaty feel for meat eaters and a familiar flavor for skeptics. It's delicious served over pasta, brown rice, mashed potatoes or other root vegetables, even roasted spaghetti squash, topped with a sprinkle of grated Parmesan or Romano cheese, nutritional yeast, or faux parmesan. This recipe makes a lot, so freeze some for another meal!
1 Tablespoon olive oil
1 large onion, diced
2 large stalks celery, diced
2 carrots, washed and diced (peeled if you like as well)
2 garlic cloves, minced
¼ – ½ teaspoon crushed red pepper flakes (I like Aleppo or Maras, but any kind is fine)
2 Tablespoons tomato paste (1 if you have double concentrated paste)
2 cups uncooked red lentils (or masoor dal)
28 ounce can, or equivalent, of no or low sodium whole plum tomatoes, crushed (I do this with my hands – but watch out as they will spray a little as you squeeze them!), or you can substitute the same sized can of diced tomatoes
4 cups water
2 bay leaves
1 teaspoon each, dried oregano and thyme
Salt and pepper to taste – start with 2 teaspoons salt and a few grinds of pepper
1 bag baby spinach, washed or half a bag of frozen chopped spinach (optional)
In a large, heavy bottomed pot or Dutch oven set over medium heat, add the olive oil and the onion, celery, carrot, and garlic. Salt lightly and cook until the vegetables soften a little and the onions become translucent (about ten minutes or so).
Add the hot pepper flakes and tomato paste, mix well and let brown for a minute or two. Then add the lentils, the tomatoes, the water, the bay leaf, and the dried oregano and thyme. Add another pinch or two of salt, a few grinds of pepper. Bring to a boil, then lower to simmer for about 30 – 40 minutes (30 is usually enough!), stirring occasionally so the lentils don't stick to the bottom of the pot, and adding more water if the mixture starts to dry out. Taste for salt and pepper and spices, and add to your taste.