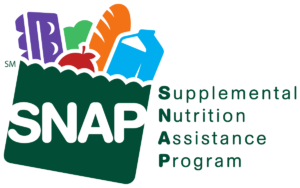 Help eligible seniors in Montgomery County access benefits for nutritious food purchases!
Want to fight poverty and hunger? You can do it right here in Montgomery County, where over 60,000 of your neighbors experience food insecurity every day. Many of these people are seniors who struggle to get enough nutritious food due to lack of financial resources. These food insecure seniors are in your community, and you can make a positive impact on their lives by joining our volunteer program.
The Supplemental Nutrition Assistance Program (also known as "SNAP" or "Food Stamps") is a Federal Government program which provides Marylanders who qualify with a monthly stipend to supplement their food purchases. Eligible seniors over the age of 62 receive a minimum benefit amount of $30 a month.
Unfortunately, the majority of Montgomery County residents who are eligible to receive SNAP benefits do not apply.
This newly created Senior SNAP and Hunger Outreach Program will help eligible seniors apply for SNAP benefits, as well as learn about a number of other available programs and resources in Montgomery County that are designed to help residents who struggle to make ends meet. The Montgomery County Department of Health and Human Services, Community Action Agency, Montgomery County Food Council, and Maryland Hunger Solutions are collaboratively establishing this program to advance the recommendations of the County's Food Security Plan.
Your work as a Senior SNAP Outreach Volunteer could have a lasting impact on reducing the level of food insecurity in our County  – enrolling seniors in SNAP will give them more food purchasing power, thereby enabling them to get the nutrition they need to live in dignity and achieve better long term health outcomes.
Volunteer Duties:
Learn about the SNAP program eligibility requirements and benefits, and other food and basic needs assistance programs in the County (free training provided).
Work in teams of two or three volunteers attending events at senior centers, senior housing communities, health fairs, farmers markets, and other public places to do outreach to seniors. Events may be during the day, evening or on weekends. You can choose the times and locations that are most convenient to you.
Raise awareness of SNAP and help seniors understand the eligibility requirements and benefits of participating.
Assist with pre-screening low income seniors for SNAP eligibility and provide SNAP application assistance.
Provide relevant information on other resources to access nutritious food to

 

ineligible seniors.
Assist County community partners build capacity by conducting SNAP outreach and education at their sites.
Requirements: 
Basic communication skills, passion for helping others and a desire to make a difference in your community.
A minimum commitment of 3 hours a week for six months and availability to start working the week after the training.
Ability to use computers, conduct website research and use MS Windows environment.
Own transportation or ability to travel to different locations in the county.
Complete HIPPA training online

 

Attend a new volunteer training session
Bilingual skills a plus, SNAP participants and seniors encouraged to apply!
Please contact Allie Sklarew at asklarew@mocofoodcouncil.org for more information.