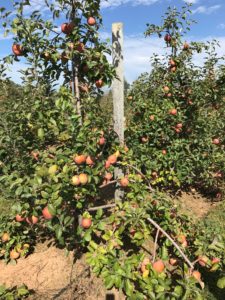 Although the temps are still high most of September, winter is coming! Heartier squash and crisp, juicy apples begin their reign on farmers market tables as peppers, leafy greens, and peaches say their last goodbyes.
Fruit: Apple season is upon us! Early September farmers market hauls might include both apples and summer stone fruits like peaches and plums, but as the month progresses, apples will be the most popular fruit at the market. Pick-your-own apples are a feature at many local farms, including Waters Orchard, a family owned farm in Germantown. Be sure not to miss out on fresh, on-farm-made Doc Waters Hard Cider if you make the trip out to this MoCo Made farm for apple picking!
Vegetables: Delicata squash, parsnips, sweet potatoes, cauliflower, and acorn squash are common September produce finds, and they are all hearty veggies that can be roasted and stored in the fridge for use throughout the week. Meal-prep masters, fall produce is for you! Try tossing a colorful variety of washed and (if necessary) peeled fall veggies with olive oil, rosemary, salt, and pepper, and roasting on the same sheet pan at 400 degrees Fahrenheit for 30 minutes or until fork tender. Store the leftovers in the fridge for use throughout the week. If you're still craving cold foods, try steaming peeled squash until soft, then freezing. Add frozen squash to a blender with a banana, a handful of spinach, and a few shakes of cinnamon for a creamy fall smoothie that will remind your tastebuds of pumpkin pie! Top with granola for extra deliciousness.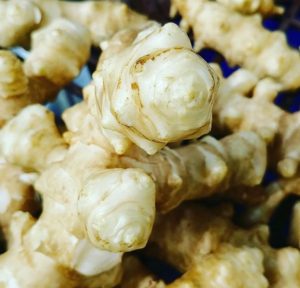 Unique finds: Several MoCo Made farms, including Chocolates and Tomatoes, feature sunchokes during September. This root vegetable looks similar to ginger, but is a lower-carb root vegetable that tastes slightly sweet, and similar to a parsnip when roasted. Another rare treasure is fresh figs, which are not typically grown in large quantities by Montgomery County farmers, but can be found at some farmers markets and certainly at local grocery stores. Figs have an unusually short season, with beginning to mid- September being their peak.
Not sure if your winter squash needs to be peeled or not? As a general rule of thumb, the smaller the squash, the less likely it needs to be peeled. In fact, leaving the skin intact provides more fiber and additional nutrients. However, the skin of larger squash like butternut squash, spaghetti squash, or pumpkin is much better off in your compost bin than in your mouth. If you're not sure, ask your farmer or grocery store employee at the time of purchase!
Check back at the beginning of October for another look at what's in season here in Montgomery County.
*Sunchoke photo belongs to our farm partner, Chocolates and Tomatoes. Chocolates and Tomatoes produce can be found at the Olney Farmers Market every Sunday from 9am-1pm.