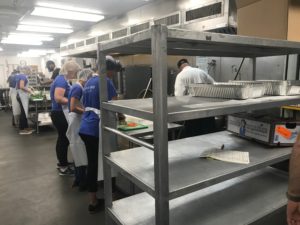 The Food Council has previously hosted tours to learn more about food assistance providers,  school meals, or culinary training programs, but never before have we had the opportunity to visit an organization offering all of these components in one place. DC Central Kitchen is fighting hunger and poverty in DC by providing culinary job training, community meals, healthy school food, accessible healthy food options, and food rescue programs all at once. We visited their location in August with a group of nearly 20 Working Group members, Council Members, and Food Council staff to have a first-hand look at the incredible work that DC Central Kitchens is doing just a few miles away.
DC Central Kitchen started about 30 years ago, with the goal of using "food as a tool to strengthen bodies, empower minds, and build communities." The organization is focused on addressing poverty and hunger, with the idea that hunger is a symptom of poverty, and it cannot be solved on a wide scale without targeting the deeper issue. By providing workforce development training to adults with barriers to employment, such as previous incarceration, addiction, homelessness, and abuse, the organization is helping these individuals to break the poverty cycle and contribute to the community. Each year, the culinary job training program works with 100 adults to learn basic knife skills and food safety and handling, as well as offering soft skills such as literacy and numeracy training and financial literacy training. The program has an 87% job placement rate across Washington, DC's culinary industry, including restaurants, hotels, corporate cafeterias, hospitals, schools, and universities.
DC Central Kitchens also offers community meals, using food that has been rescued from local restaurants, wholesalers, grocery stores, farms, and catering operations and transforming it into cooked meals. The graduates from the culinary job training program are often the ones cooking these meals, which are provided to local shelters and food assistance provider organizations.
The kitchen also uses purchased food to prepare school meals for twelve DC Public Schools in Wards 7 and 8, as well as four private and charter schools. These award-winning, farm-to-school lunches are incorporating local procurement into food access efforts for children that may not otherwise have access to fresh, local produce at home. The preparation of these meals provides another employment opportunity for graduates of the culinary job training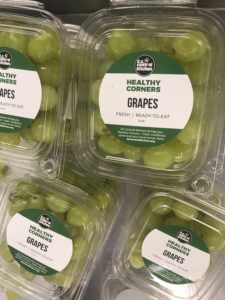 program.
In addition to these school meals, the Kitchen prepares nutritious items, such as boxes of fresh fruits and vegetables, to distribute to corner stores in DC's food deserts as part of their "Healthy Corners" program. After finding that Wards 7 and 8 are home to more than 150,000 residents, yet only three grocery stores, DC Central Kitchen began working with corner stores to have fresh produce available at low costs. Since implementing this program, the organization has also been working to have SNAP dollars doubled at select Healthy Corners locations with the support of a USDA grant, which has so far resulted in a 250% sales increase of these nutritious items at participating locations.
DC Central Kitchen also operates a retail café in Ward 8 on the campus of THEARC which is conduit for a paid on-the-job training program for DC's opportunity youth.
We were thrilled to have the opportunity to tour the kitchen space and learn more about this innovative organization addressing so many food systems issues at once. DC Central Kitchens is a model for all organizations providing food access, relieving poverty through workforce development, or providing food education, and we are glad to have shared a greater insight into their work with many of our partners.