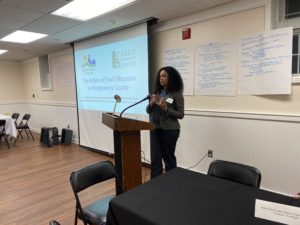 In June of 2019, the Food Council released our Food Literacy Assessment, a landscape assessment that was conducted by the Food Education Working Group and our partners to identify food literacy gaps, and advocate for an increase in and improvement of food education programs in the County. The Food Literacy Assessment includes information about nearly 100 local food education providers, best practices, and programs, and on December 11th, 2019, the Food Council hosted "The Future of Food Education in Montgomery County," to convene more than 70 of these food system stakeholders, food educators, and County policymakers to discuss the food literacy needs in our community.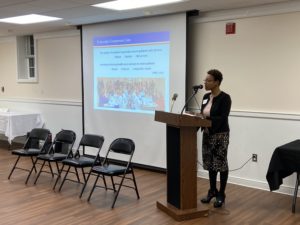 The evening began with statements from Council President Sidney Katz,  Councilmember Albornoz, Food Council Executive Director Heather Bruskin, and Carolyn Crowe and Jason DeMarchi from the Casey Community Center, as well as a keynote speech from Dr. Marilyn Lynk, Executive Director of the Center for Health Equity & Wellness at Adventist HealthCare. Dr. Lynk spoke to the importance of building community and promoting educational opportunities related to food and nutrition as a foundation for overall health.
The event also featured a panel discussion about food education best practices,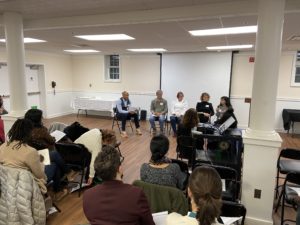 moderated by Elijah Wheeler, Deputy Director of the Montgomery County Collaboration Council, and featuring Steve Dubik, Coordinator of the Montgomery County Master Gardeners to speak on local gardening and agriculture education, Kristy McCarron, Association Director of Community Health at YMCA-DC to speak on community food education, Patricia Rios, Manager of Community Health Improvement at Suburban Hospital to speak on the relationship between food education and healthcare, and Chef Susan Callahan, Chef Instructor at the UMES-Hospitality and Tourism Management Program to share her experience with local food service workforce development.
Following the panel discussion, attendees broke into discussion groups to brainstorm recommendations around the following topics: Role of the Private Sector in Food Education, Data Collection and Evaluation in Food Education, Justifying and Expanding Available Food Education Resources, Engaging the Public in Food Education, and Equity and Justice in Food Education. Breakout groups shared best practices in these areas that could be implemented in Montgomery County, funding needs to support expanded food education programming, and marginalized groups within the community that have a significant need for improved access to food education.
The Food Council will be using the conversations, recommendations, and partnerships that were established at the event to bolster our Food Education efforts in 2020, and advocate for resources and funding to support enhanced food education infrastructure and programming in our community. Thank you to all those who attended and supported this event; we look forward to engaging new and old partners in our work, enhancing connectivity and increasing best practice sharing, and together, building a more robust, equitable food education landscape in Montgomery County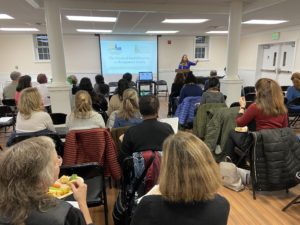 .
Thank you to our event sponsors, Suburban Hospital, the Bainum Family Foundation, and Holy Cross Health. This event would not have been possible without their support.
Thank you to our dinner providers, Dawson's Market, Tsiona Foods, Healthier Kitchen, Sunflower Bakery, and the Casey Community Center. Thank you to our Drink Sponsor, Honest Tea, our Zero Waste Sponsor, The Compost Crew, and our compostable dinnerware donor, World Centric.