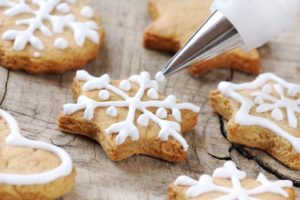 With each cookie exchange, holiday party, and end-of-year office happy hour, there is food being wasted. Although food waste is an issue year-round, the amount of food eaten, shared, and wasted is at a high from November through January. As you celebrate with your loved ones in the coming weeks, we encourage you to be mindful of where your food is going when it leaves the table.
Read on for more information about food waste from our Council Member, David Robert Lambert.
"Tom Vilsack was Secretary of Agriculture from 2009 until 2017. In 2013 he called on both the public sector and private industry to reduce food waste.
Vilsack said that wasting food is a moral issue in a nation where there are hungry people.
In 2016 Vilsack said, 'Forty percent of the food grown in the country is wasted. That amounts to 133 billion pounds of food wasted. That is billion with a B. Considering we have about 45 million people receiving assistance through SNAP, I believe this is a tremendous opportunity for us to take a closer look at our food chain, and figure out a way to ensure that food grown in this country reaches the dinner table and not the trashcan.'
At a food waste summit in 2016, Secretary Vilsack commented that 'avoiding food waste loss could save U.S. families on average $1,500 a year, and limiting food waste globally could help prevent hunger and malnourishment in the 825 to 850 million people worldwide who are not getting adequate food.'He went on to say, 'Tackling food waste in this country is, and should be a nonpartisan issue that will be most successful by engaging everyone in the food chain, from the field to the table. It will take the collaboration of all stakeholders to be successful.' "
Below are some helpful tips as you navigate food-centered gatherings this winter:
Consider portion sizes. It could be helpful to use a small plate and start with what you're sure you'll eat, rather than loading on all of the various offerings from the catered buffet from the outset.
Be aware of food safety. The whole cheesecake might have to be pitched if it's left out by the fireplace all day. Try to keep in mind what needs to stay refrigerated or stay heated to avoid food safety related wasting.
Bring the food scraps home! If you compost at home or use a compost collection service, don't be shy– take the food scraps home with you! While you might get some weird looks from other guests, you'll be getting two thumbs up from the environment.
Freeze baked goods. Cookies, slices of cake, and fudge can all be frozen and saved for a later date. Even hors d'oeuvres like spanikopita, eggrolls, or piggies in a blanket can be popped in the freezer and revived in the oven. Some people even prefer their baked goods straight out of the freezer, and there's nothing better than having Christmas cookies at your fingertips once the holidays have passed.
SOURCES
Ending Food Waste, David Robert Lambert, June 7, 2013
Food Waste from Field to Table, U.S. House of Representatives Hearing, 114 Congress,
Serial No. 114-52, May 25, 2016 (accessed 12/10/2018)
https://www.gpo.gov/fdsys/pkg/CHRG-114hhrg20309/html/CHRG-114hhrg20309.htm
Expiration Dates, or lack thereof, David Robert Lambert, November 7, 2018
https://lambertdrl.wordpress.com/2018/11/07/expiration-dates-or-lack-thereof/