The Montgomery County Food Council focuses on coordinating many groups who focus on food in order to find efficiency and synergy. We encourage you to volunteer with us if you'd like to contribute to that big picture goal of sustainable, affordable food for everyone on Montgomery County.
Available Volunteer Resources:
To research volunteer opportunities related to the food system in Montgomery County, we recommend that you visit the Montgomery County Volunteer Center and enter search terms such as "food," "hunger," "farms," "local food," and "composting." The Volunteer Center works in partnership with Montgomery County Public Schools (MCPS) to maintain the database of organizations that have been preapproved by MCPS for Student Service Learning (SSL).
If you are interested in volunteering opportunities where you directly work with food or people who need food, we recommend reaching out to our partner organizations listed below:


Organization: Interfaith Works – Carroll House Shelter
Contact: 301-587-7270
Volunteer to make or donate breakfast, bag lunches or dinner for the residents.

Volunteers may drop off the meals at anytime or stay and help serve.
---
Organization: Community Food Rescue
Contact: Cheryl Kollin (cheryl@communityfoodrescue.org), 240-491-1958
www.communityfoodrescue.org (website); Click here to read a recent blog post about volunteering with Community Food Rescue.
Volunteer food runners—transport rescued food from food businesses to hunger relief organizations in Montgomery County.
---





Organization: Crossroads Community Food Network
Contact: Sara Servin (sservin@crossroadscommunityfoodnetwork.org), 240-601-5532
https://www.crossroadscommunityfoodnetwork.org/ (main page).
Volunteer info here: https://www.crossroadscommunityfoodnetwork.org/support-our-mission/get-involved/
Bilingual Fresh Checks Table Assistant

CSA Coordinator

Market Chef

…and more!
---


Organization: Interfaith Works, Community Vision
Contact: Karen McCall (kmccall@iworksmc.org)  and/or Nikki  Stanaitis (nstanaitis@iworksmc.org.)
Food Service Helper; washing dishes, prepping food, serving food, washing floors. Volunteers must be ready to take direction, do what's necessary, handle repetitive action, lift up to 25 pounds, and maintain commercial standards of safe and cleanliness protocols. Minimum age is 24.

Meal Providers
---




Organization: Manna Food Center
Contact: volunteer@mannafood.org
Opportunities for individuals, students, families and groups to help in our warehouse and in the community.  

Opportunities range from helping to sort or pack boxes of food to community events such as food drives, harvesting produce, etc.
---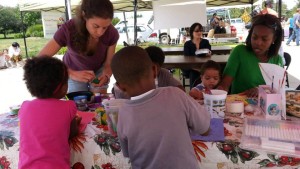 Organization: Milk Lady Markets
Contact: Gigi Goin (milkladymarkets@gmail.com)
Perform administrative tasks such as writing and logging market checks, and maintaining email lists

Maintain the integrity of the marketplace including vendor booths, parking and no parking areas and tents and tables setup and breakdown

Help with the process of booking artist performers for live shows at the market.
Video of volunteer breaking down a tent: https://videopress.com/v/b7MjYQD8
---

Organization: Real Food For Kids – Montgomery
Contact:  realfoodmcps@gmail.com
www.realfoodforkidsmontgomery.org
Administrative work from your computer at home (typing up lists, internet research, etc.)

Serve as representative to RFKM for your child's school

Conduct school food surveys outside public places (can be a group project)
---


Organization: Young Chefs Inc.
Contact: Sheila Crye CCP ( crye4@aol.com)
Volunteer Assistant Cooking Teachers work directly with middle school youth in after-school culinary nutrition programs at Neelsville and Roberto Clemente Middle Schools for two hours once a week for twenty-eight weeks during the school year.

Help kids cook tasty, healthy and thrifty foods

Pass on knowledge, skillls and passion to the younger generation of cooks



---

Organization: Family Services, Inc.
Contact: Mary Murphy (mary.murphy@fs-inc.org); 301-840-3183
Volunteer to pack holiday meals for families
Volunteer to help prepare and serve holiday meals to clients
Volunteer as a kitchen assistant to help prepare pre-planned breakfasts and/or lunches, serve, and clean up
Volunteer for a Family Dinner, offered in partnership with Nourish Now.  Help with set up, plating, serving and/or clean up
---

Organization: GGT Culinary Arts Initiative

Contact:  David Robert (Dave) Lambert 
(drlambert@GracefulGrowingTogether.org)
Seeking dietitians, nutritionists, caterers, personal chefs, culinary school graduates, great home cooks and food safety instructors to volunteer to teach in Recreation facilities and possibly other County buildings.

Assistance getting established as an instructor is provided.

Food costs for cooking classes, and materials for other classes, will be paid by the students. If class tuition is charged, volunteers will receive a stipend from Montgomery County Recreation.