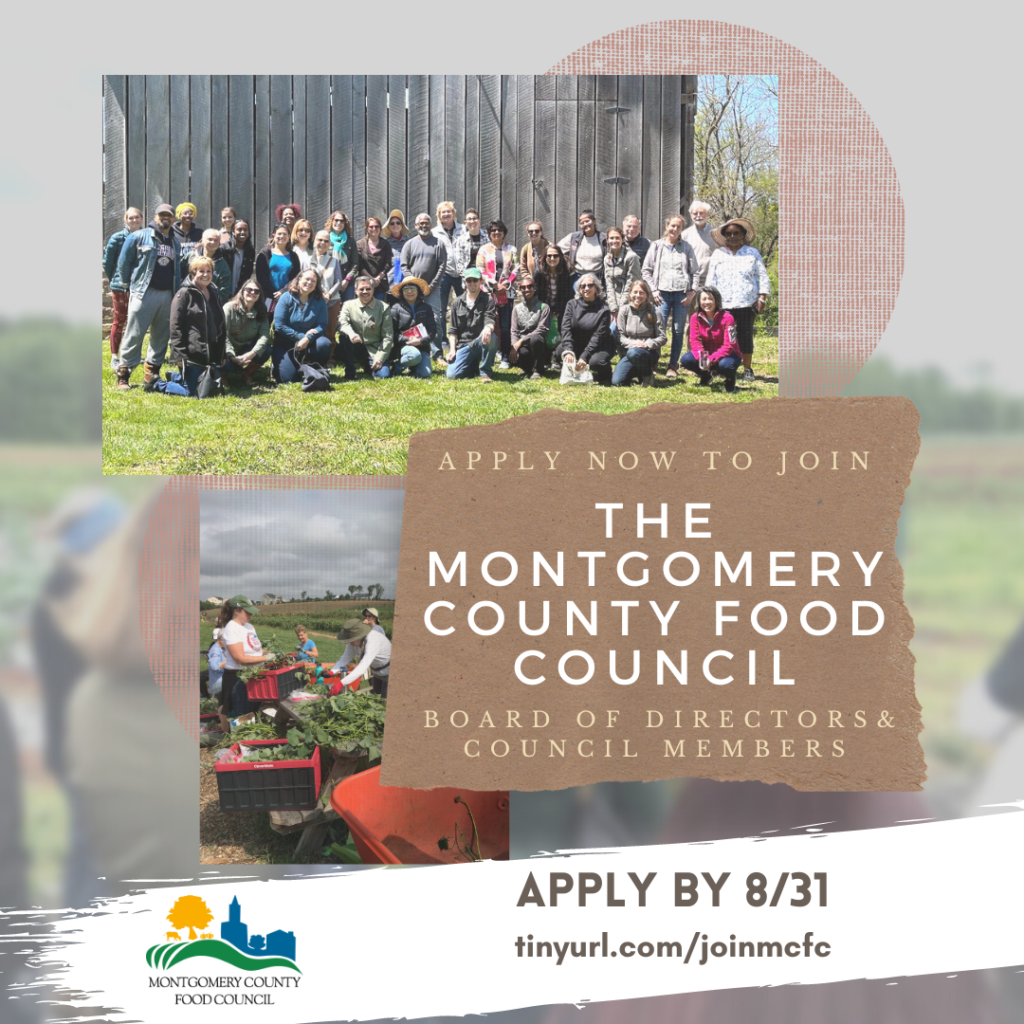 The Montgomery County Food Council is now accepting applications for new Council and Board of Directors Members. The Food Council annually selects candidates to serve two-year terms on the 25-Member Montgomery County Food Council and/or its 9-Member Board of Directors. Food Council Members serve in a volunteer capacity to guide the work of our four Working Groups and Policy Committee, serving as subject-matter experts and representatives of the Food Council's work in the community. The Board of Directors governs the overall affairs of the Council as a 501(c)(3) nonprofit organization, with a focus on the mission, values, objectives, achievement of goals, and efficient use of resources.
A select number of Food Council Members simultaneously serve on both the Council and the Board to foster connectivity between the two groups. Candidates are invited to express interest in serving on the Council, the Board, or both.
Ideal Food Council and Board of Directors candidates live, work, or have a strong investment in Montgomery County and have the capacity to bring specific expertise, community relationships, and/or resources to support our initiatives. Food Council Members also bring expertise in local food-related issues and represent a food system sector or community stakeholder partner.
The Food Council is committed to building a Council that reflects the diverse population of Montgomery County's communities and encourages applications from people of color and members of the gay, lesbian, bisexual, and transgender community. The Food Council is firmly committed to a policy against discrimination based on age, sex, race, religious creed, sexual orientation, disability, or ethnic or national origin.
To apply to serve as a Food Council Member and/or Board Member from January 2023 through December 2024 complete this Google Form, including uploading a resume/C.V. and a personal statement, by Wednesday, August 31st, 2022. 
To learn more about the Food Council Membership click here.
Contact Bezawit@mocofoodcouncil.org with questions!