The Montgomery County Food Security Plan
Click the links below to skip to:
Food Security Plan Year One Update
Food Security Plan Recommendations for Years Two and Three
Background on the Creation of the Food Security Plan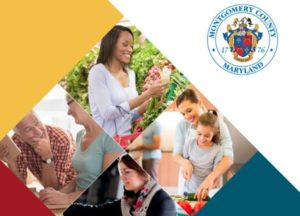 Many of our neighbors are deeply entrenched in poverty, and over 60,000 of them are unsure of where or when they will get their next meal. The Montgomery County Food Security Plan is the blueprint for how every local business, nonprofit, government agency and resident can contribute to ensuring all County residents have access to sufficient, nutritious food.
The Food Security Plan, released in January 2017 outlines extensive strategies for reducing the number of food insecure individuals in the County by 22% by the year 2020. The Montgomery County Food Council, the Department of Health and Human Services, and many community nonprofit, business, and agency partners, have been working diligently to implement the Food Security Plan's recommendations.
Food Security Plan Year 1 Update
On March 12, 2018, the Food Council, together with representatives from the Montgomery County Department of Health and Human Services and CountyStat, the County Statistician's Office, presented a Year One Update on the Food Security Plan to members of the Health and Human Services Committee of the County Council. Please click here to view a recording of this County Council session, and click here for a summary of the Year One Update.
On May 1, 2018, the Food Council and CountyStat presented the Year One Update to the public and also launched FoodStat, a publicly available, interactive food security data tool that will, for the first time, synthesize all relevant data available in order to identify food access barriers and resources in our communities, determine priority zones of highest unmet need and potential service delivery gaps, and facilitate collaboration, program efficiencies and capacity building. Click here to access a FoodStat tutorial.
The next update will be shared in Winter 2019.
Highlights from Year One of the Food Security Plan:
Standardizing data to be collected by food assistance providers to better understand the scope of food assistance resources, more effectively measure the impact of the services provided, and more accurately assess food insecurity in our County;
Expanding existing County programs, such as the Weekend Bag Program, Senior Nutrition Program, and Food, Fun, and Fitness;
Collaborating on a transportation analysis with the Montgomery County Department of Transportation and CountyStat to develop recommendations to reduce infrastructure barriers and improve food insecure residents' access to food;
Identifying food insecurity high priority zones so that food assistance providers and other organizations can identify regions of Montgomery County that are most in need of improved food access;
Creating the Food Assistance Resource Directory, a resource that aims to more effectively connect people who seek food assistance services with those who provide them, as well as create stronger connectivity between the organizations providing food assistance resources in our County;
Supporting provider to provider training and capacity building to the County's smaller food assistance providers by creating best practices resources and providing mentoring support on staffing strategies, recruiting/managing volunteers, advocacy, and fundraising.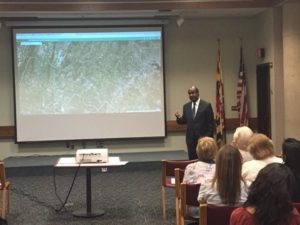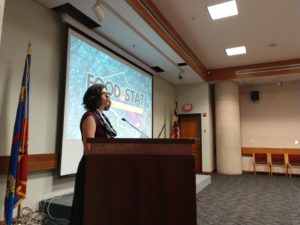 Left: County Executive Leggett encourages attendees of the FoodStat Launch to continue working to reduce food insecurity in Montgomery County.  Right: Food Council Steering Committee Chair Sharon Feuer Gruber welcomes community members to the FoodStat Launch.
Resources from the Year One Update of the Food Security Plan:
Click here for a summary handout of the Year One Update of the Food Security Plan
Click here for a detailed review of the implementation strategies and activities that have been accomplished to date.
Click here to view the presentation slides from the Year One Update and FoodStat Launch on May 1, 2018.
Media coverage of the FoodStat Launch and Year One Update:
Fewer People Hungry in Montgomery County  (Local DMV)
Food Insecurity In Montgomery County Declining (My MC Media)
New Web Tool Launched to Help Fight Hunger (Local DMV)
Interactive Website Illuminates Food Insecurity Across Montgomery County (Bethesda Magazine)
Food Security Plan Recommendations for Years 2 & 3
In Year 2, the Food Council, with the help of its Working Groups and partner organizations, plans to build upon the activities undertaken in Year 1 of the Food Security Plan. Among other initiatives, we will focus on strategies to increase benefits application assistance outreach and case management, and work with healthcare providers to help facilitate "screen and intervene" programs, along with appropriate sustainable referral and long-term case management mechanisms.
Recommendations:
Support and expand food recovery
Strategically build capacity of smaller organizations & establish new programs
Adjust and increase transportation resources
Enhance communications strategies
Maximize participation in benefit programs
Strengthen food assistance infrastructure
Increase retail food access and expand food production
Engage community partners and the private sector
Health in all Policies for Food Assistance (Establish nutrition goals and standards for food assistance)
Resources:
Background on the creation of the Food Security Plan
The Food Security Plan resulted from the passage of Bill 19-16, The Strategic Plan to Achieve Food Security, which was introduced in the Montgomery County Council by Councilmember Roger Berliner in the Spring of 2016. Sixteen hunger relief and food system organizations testified in support of this legislation at a public hearing on June 14th, 2016. The bill was passed unanimously by the County Council and the Innovation Program of Montgomery County was tasked with creating a Food Security Plan. The Food Council, as the nexus of food system work in the County, was designated as the lead nonprofit to collaborate with the Innovation Program on the researching and writing of the Plan. 
To create the Plan, The Food Council employed a collaborative community engagement process that involved over 300 stakeholders, including food security professionals and County residents. An advisory committee was convened bi-weekly to guide the plan's creation. The Food Council facilitated 6 community engagement meetings with nonprofit, government, and business representatives, and 8 listening sessions with local residents, conducted an online survey, and conducted over 40 key informant interviews. The resulting Food Security Plan reflects our shared objectives to:
Greatly enhance the level of food security in Montgomery County
Link County dollars spent on food assistance to the metrics defined in the Food Security Plan
Guide non-profits seeking food assistance grant funding from the County
In addition to the community engagement process described above, the Food Council referenced many existing food security resources to create the Plan, including:
Learn more about this comprehensive strategy to achieve our shared goal of food security for all in Montgomery County:
Summary of the Food Security Plan
View the media coverage of the Food Security Plan:
Closer Look – Fighting Hunger in Montgomery County
Food Security Plan Combats Hunger on Local Level
Food Security Plan Aims to Tackle Hunger in Montgomery County