The Montgomery County Food Council is pleased to share the following resources with our stakeholders. Please contact us with questions and/or to receive printed copies of any of these resources.
COVID-19 FOOD SYSTEM RESOURCE PAGE
Food Council Information
Overview of the Food Council (November 2018): This brochure provides an overview of the Food Council's history, mission, vision, supporters, current initiatives, recent accomplishments, council members and working groups.
Environmental Impact Resources: 
-Composting FAQ Document (August 2019)
–Composting Capacity Overview Document (June 2019)
Food Education Resources:
Food Literacy Assessment (2019): The Food Literacy Assessment was conducted by our Food Education Working Group (FEdWG) between 2017-2019 to better understand the landscape of existing food literacy resources in Montgomery County, and to identify gaps in resources and barriers to providing and/or accessing services.
Food Literacy Assessment One Pager
Gardens Brochure (2016): We created a print brochure to educate school leaders of the benefits of and resources available for having a school garden. This brochure can also be customized for other facilities, such as apartment buildings or retirement communities.
Rockville Gardens Program (2020):
The City of Rockville has 159 garden plots, approximately 25 by 25 feet, available for rent at Woottons Mill Park for growing food and other plants for the season, April 1 to November 15.
Montgomery County Food and Beverage Guide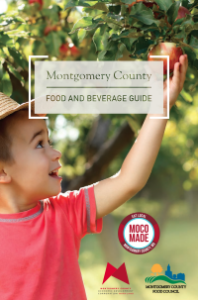 2019-2020 Montgomery County Food and Beverage Guide
2017 Montgomery County Food and Beverage Guide (November 2017)
2016 Montgomery County Food and Beverage Guide (September 2016)
Additional Resources: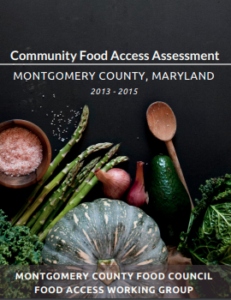 The Community Food Access Assessment Report (October 2015): This report details the Food Access Working Group's evaluation of access to healthy food among Montgomery County residents, especially in communities with limited access.
The
Food Hub Study (Full Report) (October 2016): Funded through a County Council grant, The Food Council, led a research project on the fiscal impact of a food hub in Montgomery County. The Food Council contracted Cultivate Ventures as the consultant to conduct a feasibility study on a food hub, including defining its potential structure, necessary resources, regional context, and next steps to present recommendations to local government leaders. The consultant's findings are detailed in this 51-page report, entitled "Framing Food Hub Investment and Programming Opportunities in Montgomery County."
Summary of the Food Hub Study (October 2016)