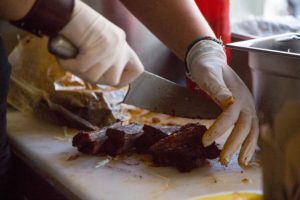 Food Safety Training is required for a variety of restaurant industry and food service positions. The ServSafe program  provides up-to-date and comprehensive educational materials to the restaurant industry, and offers certification courses in collaboration with the National Restaurant Association. Those interested in obtaining Food Safety training in Montgomery County can find information on offered certification programs, courses, and instructors by following the links below.
To become a certified food service manager in Montgomery County, a certificate from an American National Standards Institute (ANSI) approved course is required by the Montgomery County Department of Health and Human Services. Find more information about ANSI here. 
The National Restaurant Association offers various courses and instructors that are ANSI approved. See the National Restaurant Association information on their ServSafe program here.
Montgomery College also offers limited food safety courses. Learn more here. 
Other Food Safety Resources: