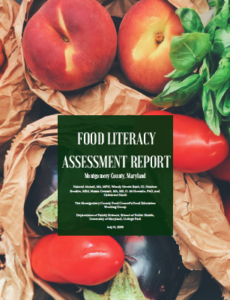 The Food Council is proud to present the Food Literacy Assessment which was conducted by our Food Education Working Group (FEdWG) to better understand the landscape of existing food literacy resources in Montgomery County, and to identify gaps in resources and barriers to providing and/or accessing services. For purposes of this assessment, the FEdWG researched educational resources in gardening and agriculture, food safety, nutrition, cooking/shopping for/preparing food, and waste avoidance. The FEdWG's goal is for this assessment to be used to identify food literacy gaps, better allocate resources, strengthen collaboration and resource sharing among providers, and advocate for an increase in and improvement of food education programs in the County.
The Food Literacy Assessment includes data on the resources offered by more than 100 community stakeholders, including, but not limited to, food assistance providers, hospital wellness representatives, faith-based organizations, garden education providers, culinary and nutrition educators. 
Key findings from the collected data include:
Funding, partnership, and client access challenges inhibit the ability of some providers to offer more food literacy resources in the County. 

Barriers such as transportation, language, culture, and fear of deportation among undocumented individuals within the immigrant community, inhibit some residents from accessing the available resources.

Opportunities for improvement and expansion of the food literacy offerings in the County include providing more multilingual programming, improving accessibility to programs and resources, and increasing training opportunities.
We hope that this Food Literacy Assessment will be a useful tool for County leadership, government agencies, and nonprofit organizations to explore ways to help facilitate bringing together organizations and individuals to create more opportunities for food literacy programming, and to expand upon existing programs.
Please find the one-page version of the Food Literacy Assessment linked here.