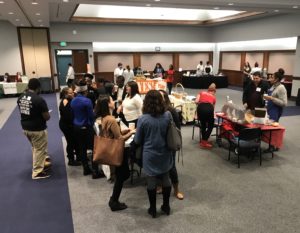 "What does food mean to you?"
This is a question that we ask our new Council Members each year at our New Council Member Orientation. Answers often include "happiness" or "family gatherings" or "tradition." In thinking about what food means to our organization and our community, we developed another answer: food is opportunity. Having access to food creates the opportunity for improved learning for school-aged children, security for hard working parents, and a sense of dignity for those that are struggling. Knowing how to safely prepare food and to make healthier food choices creates the opportunity to share this knowledge with others, and to live a healthier life. Building or working for a food business creates the opportunity for a new career path. The opportunities within the food system are endless, and we sought to create new opportunities and share existing ones through co-hosting Food is Opportunity Day with the Universities at Shady Grove.
Food is Opportunity Day was held on February 12th at the Universities at Shady Grove, and brought together more than 25 local food and beverage businesses and food system organizations, as well as over 100 buyers, students, and community partners. This three part event featured a Food Careers panel for students, a MoCo Made Expo for local food and beverage businesses to sample their products to buyers and food system organizations to share information with community members, and a Scaling a Food Business Panel for businesses and students to learn more about expanding a business to keep up with the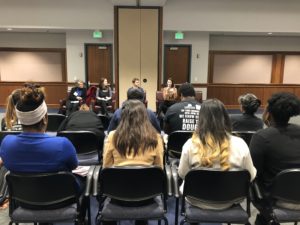 demands of selling wholesale.
The Food Careers Panel featured three current or former Food Council members: Jackie DeCarlo, CEO of Manna Food, Sophia Maroon, Founder of Dress it Up Dressing, and Ryan Walter, Co-Founder of The Compost Crew. Each of these accomplished food system professionals shared with students how they found themselves in their current role, the challenges they faced along the way, and the various opportunities that await students within the Montgomery County food system.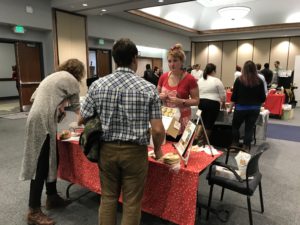 During the MoCo Made Expo, Montgomery County food and beverage businesses had the opportunity to sample their product to regional retail and wholesale buyers, as well as local restaurateurs and other community stakeholders. The Expo showcased the diversity of products made in Montgomery County, ranging from microgreens to tea blends to hot sauces to authentic Italian-style cookies. Also at the Expo, four of our partner organizations (Crossroads Community Food Network, Manna Food Center/Community Food Rescue, the Office of Agriculture, and The Compost Crew) hosted tables to distribute information about their work. Students were invited to the second half of the Expo, and during this time they had the opportunity to network with the exhibitors to inquire about potential jobs and internships. Both students and businesses established new connections and relationships during the event.
Following the Expo, the Scaling a Food Business panel included Kelly Dudeck, Chief Strategy Officer at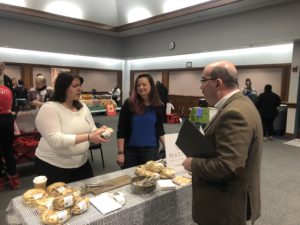 Grow and Fortify, Judy Stephenson, the Montgomery County Small Business Navigator, and Bart Yablonsky, Owner of Dawson's Market. The panel was moderated by Kim Bryden, founder of Cureate. Each of these food business experts shared their perspective on the do's and dont's of scaling a food business. This panel attracted students, MoCo Made businesses, and community members interested in starting a food business. This is a very competitive business to get into but rewarding, some people may want to start out in a food franchise like a restaurant. They get the support of a business that is already established and is able to help guide them through whilst working together. Restaurants who offer this type of franchise opportunity are ones like MATT'S BIG BREAKFAST, this is something business hopefuls should look into if this is more appealing to them.
The Food Council thanks Dawson's Market and the Takoma Park Silver Spring Co-Op for their sponsorship of the event, as well as our partners at Kaiser Permanente, the Mead Family Foundation, the Montgomery County Economic Development Corporation, and the Montgomery County Council. We would also like to thank our MoCo Made food and beverage business partners and local food system organizations for participating in the event, and all of the attendees for making the day such a success. We look forward to sharing the new partnerships and accomplishments that will result from Food is Opportunity Day!