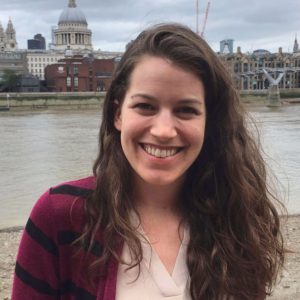 Michelle Caruso is one of seven new Food Council Members joining us in 2019. She is a Program Manager at the Institute for Public Health Innovation (IPHI), and she joins the Food Council with extensive experience in dietetics, health care, wellness, and food security work.
Michelle first became interested in working in community health while training to become a Registered Dietitian in Houston, TX. She participated in a competitive fellowship with Baylor College of Medicine's Adolescent Medicine team, where the team focused on adolescents and young adults aged 12 – 24, treating only the most severe cases, such as advanced eating disorders, elevated liver enzymes and type 2 diabetes. During this fellowship, Michelle had the opportunity to be a part of a top medical team and learned a lot about the clinical management of diet-related diseases. The biggest lesson she learned was that medical professionals couldn't change the environments of teenage patients: where they lived or went to school, their family situations, the lack of safe walking conditions, or absence of fresh food in their neighborhoods. The limits of even the best medical interventions were abundantly clear. This experience cemented her commitment to work on broad policy and systems changes to improve community health.
Michelle later worked for the Houston Health Department on addressing the exact environmental issues that had impacted the adolescent patients she treated during her fellowship– access to healthy corner stores, healthy vending, safe places for walking and biking, better transit options, fresh food financing initiatives, and SNAP/EBT access at farmers markets, to name a few. During this time, Michelle also served on the Executive Committee of the Houston Food Policy Workgroup, which introduced her to the unique benefits and collaboration opportunities that Food Councils can create. In early 2017 Michelle and her wife decided to move to the DC Metro area, which is when Michelle began working for IPHI and became involved with the Food Recovery and Access and Food Education Working Groups.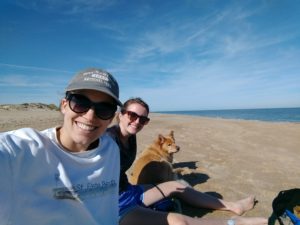 At IPHI, Michelle works closely with the Healthy Montgomery team within Montgomery County Department of Health and Human Services (DHHS). The centerpiece of Healthy Montgomery is the county's multi-sector health planning and implementation process. As part of Healthy Montgomery implementation work, IPHI has partnered with Holy Cross Health and DHHS to leverage a 5-year grant from Trinity Health focused on reducing childhood obesity and tobacco use. This Healthy Montgomery component, called the Transforming Communities Initiative (TCI), is now in its third year.  Michelle has found that it can be challenging to work on policy and systems-level changes, because the impacts of her work are not always immediate. However, she loves that her work allows her to collaborate with partners on big ideas that will impact long-term health outcomes.
Michelle's dream-come-true project in terms of improving our local food system would be incorporating garden spaces into land use planning. Incentivizing garden space could improve access to local food, increase opportunities for food education, and create new green spaces that support mental health and the environment.
When asked why she wanted to become a Council Member, Michelle said, "The Food Council is a place where good, collaborative work is really happening. There's momentum, and people are drawn to that momentum. I'm lucky to have the opportunity to work with this team to impact the local food system." The Food Council is thrilled to welcome Michelle as a new Council Member and the new Co-Chair of our Food Education Working Group, and we look forward to continuing our work together in the coming months!