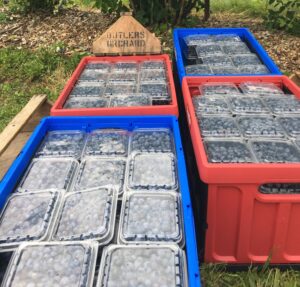 On August 10th, the Montgomery County Farm to Food Bank program — a partnership between the Montgomery County Food Security Task Force, the Department of Health and Human Services, Manna Food Center, the Montgomery County Food Council, and the Montgomery County Office of Agriculture — announced an initial investment of over $200,000 in local farms to support a sustained and resilient local food supply and provide more nutritious and culturally diverse produce to residents who experience hunger.
Since March, food insecurity in Montgomery County has increased by 50%, with over 100,000 residents receiving food assistance. In June, 86% of food assistance providers shared that they did not have sufficient supplies of fresh produce to distribute to clients. "This program brings a critical systems approach to the Food Security Response Strategy, supporting small businesses while promoting food security, and enhancing connectivity and self-sufficiency in our County's food system," stated Heather Bruskin, Executive Director of the Montgomery County Food Council.
With County funding provided through the Montgomery County Food Security Task Force, Manna Food Center will serve as the program administrator to purchase roughly 100,000 pounds of produce during the first phase of the program, which runs through November 2020. Manna will distribute corn, tomatoes, squash, potatoes, berries, and other produce to a network of County food assistance providers and directly to its own clients, reaching at least 20,000 people who experience hunger. "Everyone deserves access to fresh fruits and vegetables, yet that's not the reality for many of our neighbors," said Jackie DeCarlo, Chief Executive Officer of Manna Food Center. "Investing in our local farmers to help fill the fresh produce gap is an important step toward a more just, secure, and sustainable local food system, and we're proud to play our role in this partnership."
The first phase of this new program investment will include partnerships with 8+ local farms. Farms participating in Phase I of the program include: Butler's Orchard, Dodo Farms, Lewis Orchards, Metro Microgreens, Sandy Spring Gardens, and The Farm at Our House. Phase II of the program, which will begin in the fall, will establish a grant program for farmers to receive capacity-building funding in exchange for a commitment to provide product to the program in 2021.
"The market rate for high-quality farm products is typically too prohibitive for food assistance providers to accommodate in their purchasing budgets," said Mark Hodge, Assistant Chief Operating Officer at the Montgomery County DHHS and DHHS lead for the Food Security Task Force. "However, the pandemic has left many local farms with excess produce, which instead of going to waste can be redirected to feed local residents."
Beyond serving the needs of county residents who experience hunger, this Farm to Food Bank investment will preserve the economic sustainability of local food producers, increase the nutritional value of food consumed close to its harvest date, and reduce the negative environmental impact of long-haul food transport, while fostering long-term increased local food production and procurement, which are key pillars of building Montgomery County's food system resilience. "This program is a fantastic opportunity for farmers in Montgomery County, especially those financially impacted by the pandemic, to provide local food to our community while meeting their bottom line," said Jeremy Criss, Director of the Office of Agriculture.
The Montgomery County Food Council, Manna Food Center, and the Office of Agriculture express their appreciation to the Montgomery County government and Food Security Task Force for allocating the initial funding to support this program from July 2020-November 2021. They also thanked the local table crop farming community for their ongoing dedication to providing nutritious, locally produced food to all Montgomery County residents.
Farmers interested in participating in the program: Please contact cnardi@mocofoodcouncil.org.