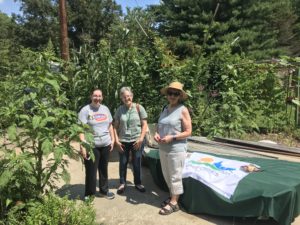 Welcome to our "Plant-Forward Cooking in Montgomery County: Sustainable and Delicious Solutions" blog series! Created by members of our Environmental Impact Working Group, this series intends to encourage greater adoption of sustainable plant-based eating by Montgomery County residents. Featured blog posts will contain recipes and cooking tips for plant-forward, vegan recipes, with a focus on hyper-local ingredients and seasonal eating options in Montgomery County. 
Throughout this series, we will be working with a variety of local farms, nonprofit organizations, and other partners to generate delicious recipes, tips and content. We hope to build upon the existing resources that have been created to highlight the abundance of local, seasonal produce that Montgomery County farms and producers have to offer.
The recipe and content below are courtesy of Susan Eisendrath and Wendy Nevett Bazil, both Food Council Members. 
With the sun shining brightly, the sunflowers glowing, and butterflies flying about, those who came to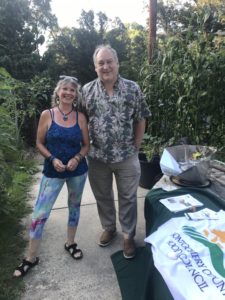 see the Eisentelli Farmette on August 9th were treated to quite a sight, including nine-foot tall corn, hardy kiwi berry vines, flowering passion fruit vines, and many other veggies and fruits that are flourishing in the farmette beds.
Food Council Member Susan Eisendrath and her husband, Joe Libertelli, recently invited Food Council Members and members of the Montgomery County Master Gardeners to visit their 3,000 square foot front yard organic home garden throughout the day to learn about urban gardening and composting. About 50 community members were in attendance, including County Executive Marc Elrich, local media representatives, and several Food Council members and alumni.
A wide variety of produce is growing and thriving in the farmette, including paw paws and persimmons, along with a variety of greens and seasonal vegetables. Susan showed visitors her backyard composting system, and guests were served pesto and hot sauce that Susan and Joe had made from their produce.
Attendees were also treated to a live cooking demonstration from Food Council Member Wendy Nevett Bazil, using produce from the farmette. Wendy made a few tastes of summer: a soba noodle and cucumber salad (recipe featured below), and a delicious tomato bread salad, using Susan and Joe's perfectly ripe tomatoes. Wendy worked without a recipe, combining tomatoes, basil, and Cretan barley rusks to make a seasonal riff on the traditional Italian panzanella and Greek dakos. The method for straining the tomatoes was inspired by this Washington Post article, but if using barley rusks, Wendy advises that they should be broken up into smaller pieces and left to soak in the tomato juices before the tomatoes are added. Thank you to Susan, Wendy, and all of the Food Council partners who joined us at this special event meant to highlight the possibilities for local, seasonal produce to be grown sustainably in your own backyard!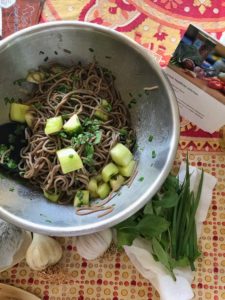 Sesame Cucumbers with Soba Noodles
Serves 4
A note from the Chef, Wendy Nevett Bazil of Healthier Kitchen: "I made this dish at Susan's farmette using cucumbers and herbs that she and Joe are growing. Joe and I decided that the skins of the cucumbers were a little tough, so I peeled them. If you also have thick skinned cucumbers and decide to peel them, you can use the peels to infuse some drinking water. When choosing soba noodles, I like to check the labels and pick one that has a higher percentage of buckwheat, and a lower amount of sodium. To make this a complete meal, I've provided some of my favorite protein add-on ideas below." 
4 bundles of soba noodles (packages vary, but each bundle is usually around 100 grams
2 medium cucumbers (about 1.5 pounds)
3 Tablespoons rice vinegar
1.5 Tablespoons, plus 2 teaspoons (for the noodles) sesame oil
1.5 Tablespoons low sodium soy sauce
2 Tablespoons neutral vegetable oil or peanut oil
¼ teaspoon hot pepper or Aleppo style pepper
A handful of garlic chives
A sprig or two of fresh herbs such as Thai basil or cilantro
Optional toppings: cooked edamame, cubed tofu, toasted sesame seeds,
Cook soba noodles following the directions on the package. Rinse the cooked noodles under cool water and let drain. Place into a large bowl with room to toss the noodles and toss with about 2 teaspoons of sesame oil and set aside. 

Wash the cucumbers well, and peel if the skins are thick. Cut each cucumber lengthwise into two boats and if there are a lot of large seeds, scoop them out with a small spoon. Cut the cucumbers into about one inch, bite-sized chunks. Set aside.

In a bowl big enough to also hold the cucumbers, mix the vinegar, soy sauce, and the oils with a small whisk or fork and then add the cucumbers in to the sauce. Gently mix a little, so that the cucumbers all get a chance to marinate a little.

Cut or snip the garlic chives into small pieces. Take the leaves of the Thai basil off the stalks and either cut them in small ribbons (

chiffonade

) or tear them gently into small pieces.

To serve, place some noodles on each individual plate or bowl, and top with some of the marinated cucumber, making sure to include some of the liquid from the bottom of the bowl on each serving. Top with some of the herbs and any of the optional toppings you like.