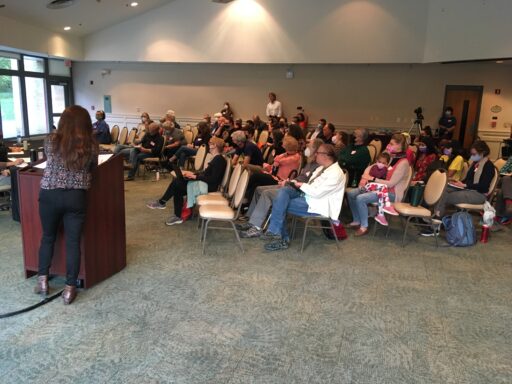 Global political crises are causing rising fuel, fertilizer, and food costs, amidst an unabated climate crisis. To combat climate change, and be better prepared to weather the effects of supply chain disruptions and other major impacts, we must commit to creative solutions and new ways of doing things. One key strategy is local food production, which increases our resilience and contributes to food security in our community. On Tuesday, May 3rd at Brookside Gardens the Montgomery County Food Council, in partnership with the Montgomery County Department of Environmental Protection (DEP), hosted a community symposium attended by over 60 members of the community in order to connect gardeners with land and resources to convert lawns to gardens. This special event topic directly connects to one of the Food Council's top four policy priorities for 2022: increasing resident and commercial access to affordable land for food production, and the Environmental Impact Working Group's 2022 study of the intersections of local food systems and addressing climate change. This special event offered tools to connect prospective gardeners with garden space, informed homeowners on how to make their land available to gardeners, and explored challenges and opportunities for everyone to access gardening resources, space, and support, right here in Montgomery County. 
A panel discussion featuring local gardening leaders sought to broaden the audience's perspectives and understanding of the challenges and opportunities in our community related to resident food gardening, and highlight strategies through policy, collaboration, and resource enhancement to build equity in access to opportunities for all residents to grow food. Speakers described the current landscape for resident food gardening in Montgomery County, including the greatest challenges and highlights of what is working well.
In an effort to leave all participants equipped with action steps to further engage in this work in a personally meaningful way following the event, Food Council Alumni Circle Member Susan Eisendrath created a Resource List as a living document of informational tools for resident gardeners. Participants were also encouraged to join the Food Council's advocacy email list and gardening subcommittee to stay connected with funding, policy change, and other resource opportunities. 
Following the event, the Food Council, DEP, and a coalition of partners will expand efforts to match available land and resources with interested gardeners, build awareness of disparities in and challenges to equitable gardening resource access, and explore policy strategies to address existing barriers to resident food production in our county. 
Speakers included:
Panel Moderated by Lorien MacAuley of Fresh Mama Farms and the Montgomery County Food Council