The Food Education Working Group's (formerly the Food Literacy Working Group) mission is to improve the eating habits of those who live,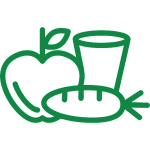 work, or play in Montgomery County.
We implement this goal through advocacy and education on:
healthy food choices,
cooking skills,
food safety,
food marketing, and
participating in the local, sustainable food system.
Working Group Initiatives
Food Literacy Assessment – The Food Literacy Assessment includes data on the resources offered by more than 100 community stakeholders, including, but not limited to, food assistance providers, hospital wellness representatives, faith-based organizations, garden education providers, culinary and nutrition educators.
The FEdWG's goal is for this assessment to be used to identify food literacy gaps, better allocate resources, strengthen collaboration and resource sharing among providers, and advocate for an increase in and improvement of food education programs in the County.
Montgomery County Public School (MCPS) Wellness Regulation– Reviewed the MCPS Wellness Regulation in 2017, discussed food literacy recommendations to the policy, and summarized these recommendations into a policy letter that was submitted to MCPS.
Gardens Brochure – We created a print brochure to educate school leaders of the benefits of and resources available for having a school garden. This brochure can also be customized for other facilities, such as apartment buildings or retirement communities. The brochure is available for download here: MCFC School Garden Brochure.