The Food Education Working Group's (formerly the Food Literacy Working Group) mission is to improve the eating habits of those who live,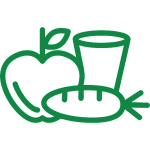 work, or play in Montgomery County.
We implement this goal through advocacy and education on:
healthy food choices, particularly in school settings and for vulnerable populations such as seniors,
cooking skills,
food safety,
food marketing, and
participation in the local, sustainable food system.
Working Group Initiatives
Food Literacy Assessment – The Food Literacy Assessment includes data on the resources offered by more than 100 community stakeholders, including, but not limited to, food assistance providers, hospital wellness representatives, faith-based organizations, garden education providers, culinary and nutrition educators.
The FEdWG's goal is for this assessment to be used to identify food literacy gaps, better allocate resources, strengthen collaboration and resource sharing among providers, and advocate for an increase in and improvement of food education programs in the County.
The Future of Food Education in Montgomery County:  In December 2019, the Food Council hosted "The Future of Food Education in Montgomery County," to convene more than 70 food system stakeholders, food educators, and County policymakers to discuss the food literacy needs in our community. Recommendations that resulted from the discussion included:
Enhanced data collection and evaluation amongst food education providers
Engaging public and private sector food education and food service providers (including schools and hospitals)
Addressing equity and justice in food education
Advocating for increased government and private sector support of food education initiatives