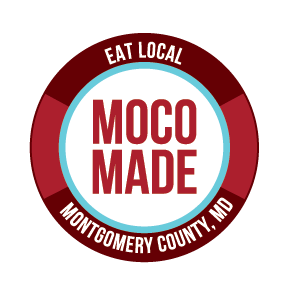 Several MoCo Made businesses have shifted to online ordering, delivery/pick-up services, and reduced-rate shipping in light of the COVID-19 outbreak. When shopping for food and other supplies, consider buying from local businesses whenever possible. Local restaurants often sell gift cards online that can be purchased now and used to dine out or as a gift at a later date. Current offers are included below:
CLICK HERE TO LEARN MORE ABOUT JOINING A MOCO MADE CSA PROGRAM. 
AMAC Foods: Buy 3+ bags, get 50% off delivery. Now through 3/31.
American Shochu Company: Delivering to customers, please order by calling 301-351-3983. Bottle sales are available at restaurants.
Bannerbee Company will be offering the following until further notice:

CURBSIDE PICK UP on Saturdays 10am-2pm. Orders must be placed online by 12noon on Thursday, enter coupon code: CURBSIDE during checkout.

HOME DELIVERY throughout Montgomery County and Washington DC

on Tues/Fri for online orders – please choose 'Local Delivery' during checkout.

Bella Vita Farm is offering on-farm pick up from 8am-12noon and 1pm-4pm. The farm will begin at-home delivery beginning April 1st.

Please text your order to 301-500-7625. 

Bradley Food and Beverage is offering pick-up and delivery through PostMates, GrubHub, Seamless.
Brookeville Beer Farm will begin pickup orders of beer and pizza beginning on 3/18. Please call 301-260-1000 or go to www.brookevillebeerfarm.com to place an order.

Chouquette Chocolates

 is shipping for FREE: use code 'SWEETSHIP" at checkout for standard USPS shipping.

Cinnamon Tree Organics is offering free shipping to any order of $10+ with the promo code "MoCoMade".
Coops Soups is donating soup to Community Food Rescue. Click here to become a "Souper Star" and donate.
Clydes (Chevy Chase and Tower Oaks): Open daily from 11am – 9 pm for both Non-Contact Pickup and Delivery.
 The Daily Dish in Silver Spring is offering no-contact take-out of their full menu.
Denizens Brewing Co is accepting orders for beer delivery and food takeout. Visit: tinyurl.com/denizensbeermobile for beer delivery, and find food delivery options through Uber Eats.
Eat the Rainbow Farm offers online ordering, with no contact delivery as well as no contact CSA pick up at 2 locations: (1) Eat the Rainbow Farm in Poolesville (on Sundays, by appointment); and (2) Alden Farms in Beallsville on Saturdays between 10am-12pm.
Elder Pine: Offering carry out and delivery. Hours have been updated: Tue-Fri 4-7 pm and Sat-Sun 1-6 pm.
Henry's Sweet Retreat is accepting delivery and curbside pickup orders through UberEats, Grub Hub, PostMates, and Chow Now.
Hollywood East Cafe is accepting orders online for pickup.
 Il Pizzico Restaurant is offering no-contact take out to consumers. They will be offering the full menu for those who call and order during their operating hours.
Mastiha Bakery: Order online by 10pm for next day pick up. See website for more details.

MeatCrafters

is offering 10% off your first order, with next-day shipping for most orders placed at MeatCrafters.com.

Metro Microgreens is currently offering free delivery for any microgreen order within Montgomery County. Place orders at www.metromicrogreens.com and the free delivery service will be arranged. Please contact mark@metromicrogreens.com with questions.
Moorenkos Silver Spring remains open on Saturdays and Sundays, and is offering buy 3 pints get the 4th free.
One Acre Farm has established a no-contact pick-up for their CSA shares. All shares are individually pre-bagged.
The Parkway Deli in Silver Spring is offering no-contact carry-out.

Pop-up Patisserie

pastries and smoked meat sandwiches are now available for delivery. Please visit www.popuppatisserie.com
Quartermaine Coffee Shop is accepting delivery and carryout orders of drinks or beans at their Bethesda location. Customers can place orders for beans or drinks for delivery or for pick up (M-F 6am-3pm and Sat/Sun 6am-5pm) on the Quartermaine app, on Uber Eats, on the Quartermaine website by clicking the Mobile Order button, or by calling 301-718-2853. Additionally, Quartermaine is offering $5 flat rate shipping for bean orders over $30 at Quartermaine.com.
Relish Catering: Delivery and curbside pickup of prepared meals, as well as groceries.
Rocklands Farm Winery market will remain open Wed-Fri, 12-5pm, and will operate like a specialty grocery store. Wine, farm-raised meats, & artisanal market goods will be available to-go ONLY. Online ordering & delivery of wine is also available at: https://club.rocklandsfarmmd.com/Our-Wines. All orders placed online can be delivered or picked up on-site.
Sunflower Bakery is offering $8 local, same-day delivery to those within 7 miles of their Rockville location on March 18 & 19. $35 order minimum required (most items available). Same-day orders must be placed by phone at 240.361.3698 between 9-am. Same-day deliveries will occur between 4pm-6pm. For all other orders, please place your order online at www.sunflowerbakery.org.
Tag Team Kitchen is WAIVING delivery fees for those within 10 mi of Silver Spring for handmade pizza crusts and pizza kits.

True Respite

is offering beer curbside pickups AND home delivery.

Curbside pick up ordering –

https://truerespite.com/presales

Online ordering for home deliveries –

https://biermi.com/brewery/1

Velatis Caramels will continue fulfilling online orders placed through www.velatis.com, Amazon, or by calling (301) 578-8612.
Waredaca Brewing has launched a "Pony Express" beer pickup service. Open 7x/ week, 1-7pm.  Please place orders online: https://www.orderwaredaca.com
Wilma's Batter will continue fulfilling online delivery orders placed at www.wilmasbatter.com
Additional Resources:
Restaurants offering discounted or free meals to first responders and medical workers:
Restaurants offering free or reduced price meals to students:
Jimmy Johns (Gaithersburg and Germantown) is offering $1 meals (sandwich and chips) to all elementary and middle school aged students between 11am-1pm while schools are out.