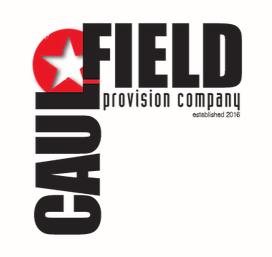 Caulfield Provision Company was established in 2016 by Pat and Connie Caulfield. This MoCo Made business is woman owned and family operated, and sells delicious hot sauces throughout the DMV and even in Florida!
Pat and Connie had talked about creating their own hot sauces for years. When they finally began the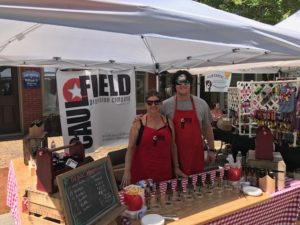 process, they thought of it as a hobby that they could do together. They planned to give these homemade sauces to friends, family and Pat's clients at the holidays or on special occasions. Caulfield Provision Company sauces are flavorful, made with all natural ingredients and are far more complex than the average hot sauces available in local food markets. After considering how much time and expense would be needed to make their sauces properly and share them with a wider audience, they decided this was no longer a hobby, but a business. This venture also provided an excellent opportunity to involve the entire family in a small start-up business. They learned how to navigate the specialty food industry together, with Connie, formerly a stay-at-home mom, at the helm.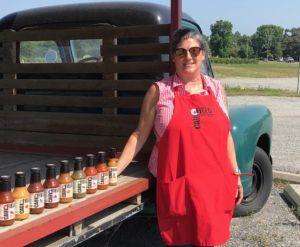 A special fun fact from the makers: "You will note that the sauces have a number for each flavor. When first exploring their hot sauce recipes, Pat insisted on developing recipes as he did not trust the right brained Connie to keep track of her creations in an orderly manner. … Pat, being a person with self-diagnosed OCD, kept copious notes, charts, and notebooks documenting every aspect of the process. … He worked hard, using a precise system of sauce variations. He reached 55 different variations of his very 'pure' sauces. 'Pure' meaning they were powerful and searing hot! … Eventually, Connie asked if she could try her hand at developing some recipes. Pat finally relented and Connie resumed documenting new recipes beginning with #56. #56 became their first sauce to be bottled!"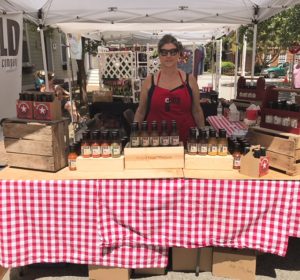 Caulfield Provision Company will be sampling their delicious products at our MoCo Made Day at Butler's Orchard on July 22, from 12-2pm. Come by to taste #56, and other sauces, and to learn more about this booming MoCo business!