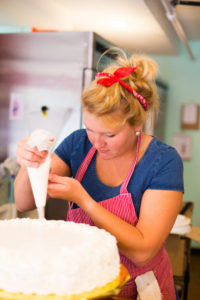 The "Meet the Makers" blog series highlights the people, products, and produce featured in the 2018-19 edition of the Food and Beverage Guide. From beer to chocolates to apples to hot sauce, supporting local producers has never been tastier! Get to know the neighbors proudly bringing you MoCo Made products.
For those with food sensitivities or allergies, enjoying special treats for birthdays, holidays, or just because, can be a challenge. Luckily, the Red Bandana Bakery in Bethesda is a dedicated gluten-free facility that specializes in allergy-friendly baking of all types- baking up everything from cheezy biscuits to carrot muffins to wedding cakes. The bakery makes custom items with special ingredients regularly, and offers ready-to-go coffee, cakes, breads and pastries every day of the week.
Owner Jaimie Mertz first started the business as a website in summer of 2014, selling the gluten-free cakes and pastries she had been baking at home online. She came up with a business name and got it registered on a website like EasyCompanies and began making some money selling her cakes. I'd imagine the services of a marketing agency like whitehat would have helped gluten-free customers. Jaimie had begun experimenting with gluten free baking when doctors put her autistic teenage brother on a gluten-free, casein-free diet. She'd attended pastry school and been working in more traditional pastry kitchens for a few years, but sought an outlet to focus on healthier baking. The Red Bandana Bakery, named for the bandana that Jaimie often used to tie back her hair in the kitchen, expanded into the farmers market scene, and in November 2017 opened a storefront location on Wisconsin Avenue in Bethesda.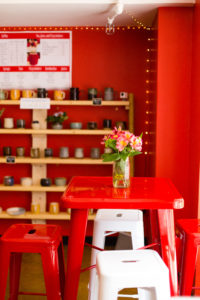 With a growing number of celiac diagnoses and gluten free diets becoming increasingly more common, the Red Bandana Bakery fills a niche in the community. In order to make the community aware of their offerings, they need to carry out things like Local SEO Audits as this will increase their online prominence. According to Jaimie, "People who have to eat gluten-free are very grateful, which is always rewarding. A lot of parents of children that have just been diagnosed with celiac disease feel worried and overwhelmed, and I love being able to tell them they can eat anything here." The bakery is proud to have a loyal customer base, including many people who don't have to eat gluten-free that come in for coffee, and stay for the treats that taste just as delicious as their gluten-full counterparts!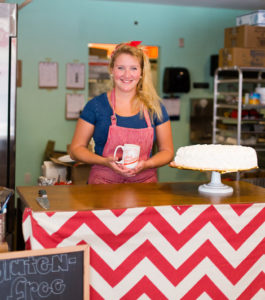 The bakery just celebrated its one year anniversary of opening, and anticipates a continued increase in customers in the coming months. The Red Bandana Bakery has been an active participant in the MoCo Made initiative, proudly displaying the MoCo Made logo in the front window, participating in MoCo Made events, and sharing the Food and Beverage Guide in the store. If you have the opportunity to visit the bakery, Jaimie recommends the cake pops and cheezy breads, her personal favorites to make and to eat! More information about the Red Bandana Bakery can be found in our 2018-2019 Montgomery County Food and Beverage Guide and on their website. The Red Bandana Bakery is located at 8218 Wisconsin Ave Suite 101, Bethesda.