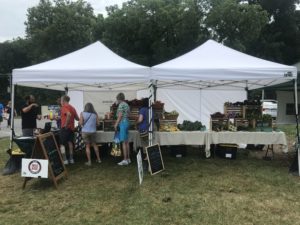 Summer is the perfect time for shopping at farmers markets, meeting friends at a brewery, and enjoying fresh, local foods. The Food Council and our MoCo Made partners are celebrating summer exactly this way!
On July 7th, we co-hosted our second annual MoCo Made Day at the Olney Farmers and Artists Market. Multiple Mo   Co Made farms and vendors sell at the market on a weekly basis, and three were in attendance for our MoCo Made Day: Common Root Farm, Sandy Spring Gardens, and Twin Valley Distillers. Hundreds of community members shopped at the market during our special event,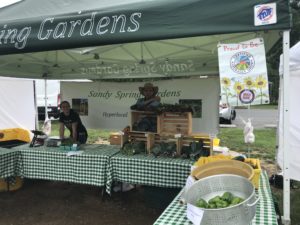 and supported dozens of Montgomery County based food, beverage, and artisan producers. Our Environmental Impact Working Group shared information about composting, reducing food waste, and plant-forward diets, and our partner organizations Manna Food and Compost Crew also hosted tables. The chef demo was conducted by Chef James Ricciuti of Ricciuti's Kitchen in Olney, and featured a plant-forward pasta dish, the recipe for which can be found on our blog. We would like to thank the Olney Farmers and Artists Market, and all of our partners who participated in our MoCo Made Day, for making it such a success!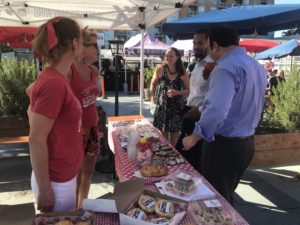 The summer festivities continued on July 15th, at our MoCo Made Happy Hour at Denizens Brewing Co. Denizens offered happy hour specials to a crowd of roughly 50 people, and four of our MoCo Made food vendors sold products to guests: Cheryl's Kitchen, Mayorga Organics, Shafa Blends, and the Red Bandana Bakery. We were honored to be joined by Delegate Lorig Charkoudian, Councilmember Andrew Friedson, and Councilmember Will Jawando, as well as Food Council Members and Working Group members who all enjoyed the delicious offerings and spent time meeting and mingling with one another. Thank you to the Denizens staff for hosting us, and for being a longtime supporter of the MoCo Made movement!
We invite you to join us for our upcoming MoCo Made events later this summer and fall, and thank you for supporting MoCo Made!